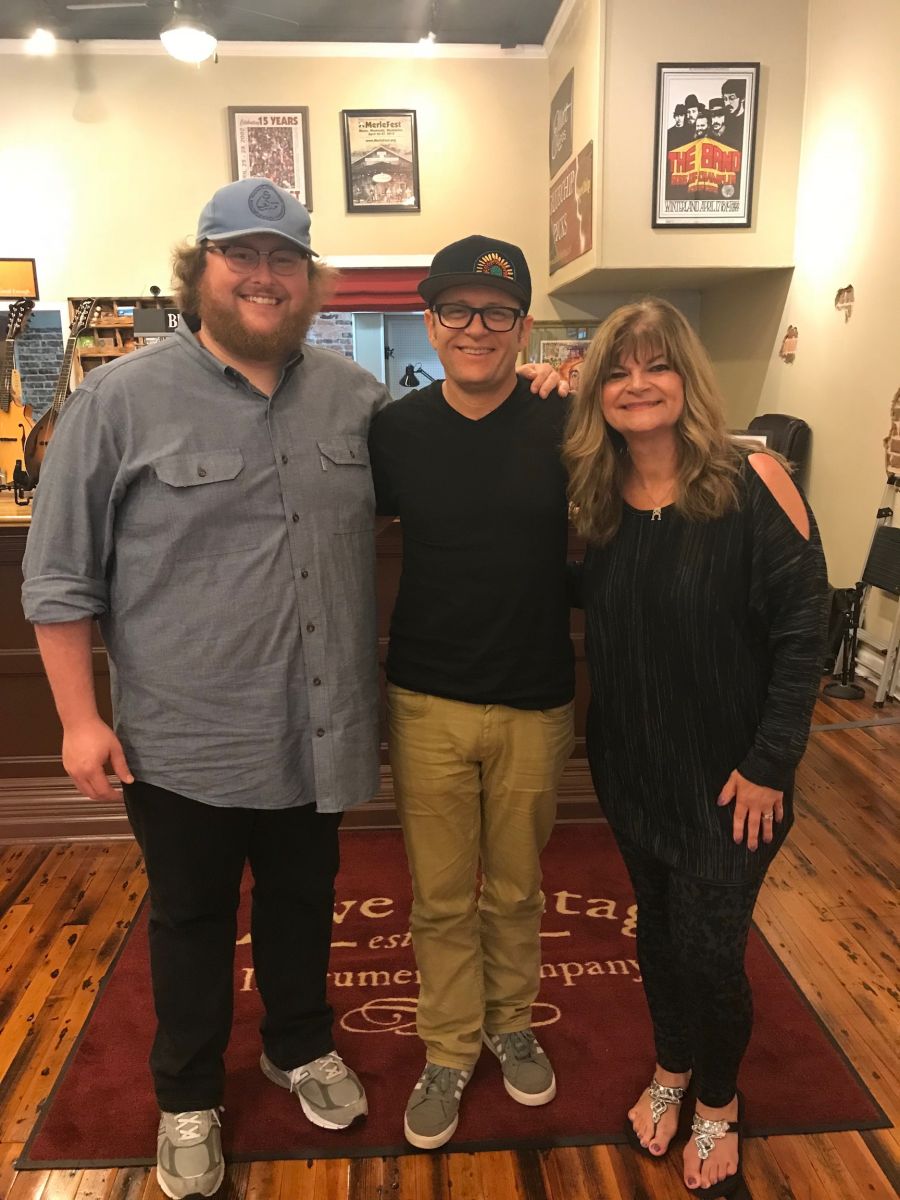 Will Lowe (Lowe Vintage) Jeremy Garrett (Infamous Stringdusters) and Cindy Baucom
Knee-Deep In Bluegrass
with Jeremy Garrett from Lowe Vintage
SHOW 776– HOUR 1-Week of May 14, 2018
Segment 1-
Show Open & Theme-Knee-Deep In Bluegrass-Terry Baucom
Song-Something Out of Nothing-Sideline
Song- I Met The Man-Shawn Lane
Segment Time: 8:28
Segment 2-
:15 bumper bed
Song- What's Good For You-Jeremy Garrett
Song-I Am A Stranger-Jeremy Garrett
(Sponsors) Lil John's / Dollywood / Red White and Bluegrass
* Poison Cove-Russell Moore & IIIrd Tyme Out
Segment Time: 14:41
Segment 3-
:15 bumper

Song- Fork In The Road-Infamous Stringdusters
Song-Eldorado Blue-Balsam Range w/Atlanta Pops Orchestra Ensemble
(Sponsors) Pickin' In Parsons / Shriners Bluegrass Festival / The Crooked Road
* If I'd Have Wrote That Song-Joe Mullins & The Radio Ramblers
Segment Time: 13:31
Segment 4-
Song-Goin' Up-Garrett Grass
Song-Gonna Lay My Heavy Burdens Down-Garrett Grass
(Sponsors) Lowe Vintage / IBMA / Willow Oak Music Park
* My Baby's Gone-Claybank
Segment Time: 17:16
Local Station I.D.
Hour 2- Show 776
with Jeremy Garrett
Segment 5-
:15 bumper bed

Song- Girl From West Virginia-Doyle Lawson & Quicksilver
Song-Even Somebody Like Me-Terry Baucom's Dukes of Drive
Segment Time: 6:38
Segment 6-
:15 bumper bed

Song-A Hard Life Makes A Good Song-Infamous Stringdusters
Song-Knock Knock-Dan Tyminski
(Sponsors) Lil John's / IBMA / Dollywood Barbeque & Bluegrass
* Walk On Boy-The Kruger Brothers
Segment Time: 11:52
Segment 7-
:15 bumper bed

Song-Gravity-Infamous Stringdusters
Song- My Little Georgia Rose-Ricky Skaggs & Travis Tritt
(Sponsors) Shriners Bluegrass / The Crooked Road / Pickin' In Parsons
*John Henry Blues-Jim Mills with Tim Stafford
Segment Time: 14:34
Segment 8-
:15 bumper bed

Song-Vertigo-Infamous Stringdusters
Song-The Coast of Carolina-Thomm Jutz
(Sponsors) Willow Oak / Red White and Bluegrass
Segment Time: 13:31
*How's The World Treating You-Alison Krauss & James Taylor
Segment 9-
:15 bumper bed

Song-1901: Canyon Odyssey-Infamous Stringdusters
Closing Theme-Winslow-Terry Baucom
Segment Time: 7:25
Segment 10 – Show PROMO :30
*denotes added selections for npr affiliates
Knee-Deep In Bluegrass is a Production of John Boy & Billy, Inc. All Rights Reserved. For questions, tech support, to become an affiliate or get advertising rates, contact Cindy Baucom: [email protected] Call or Text (704) 221-2847
THANK YOU!