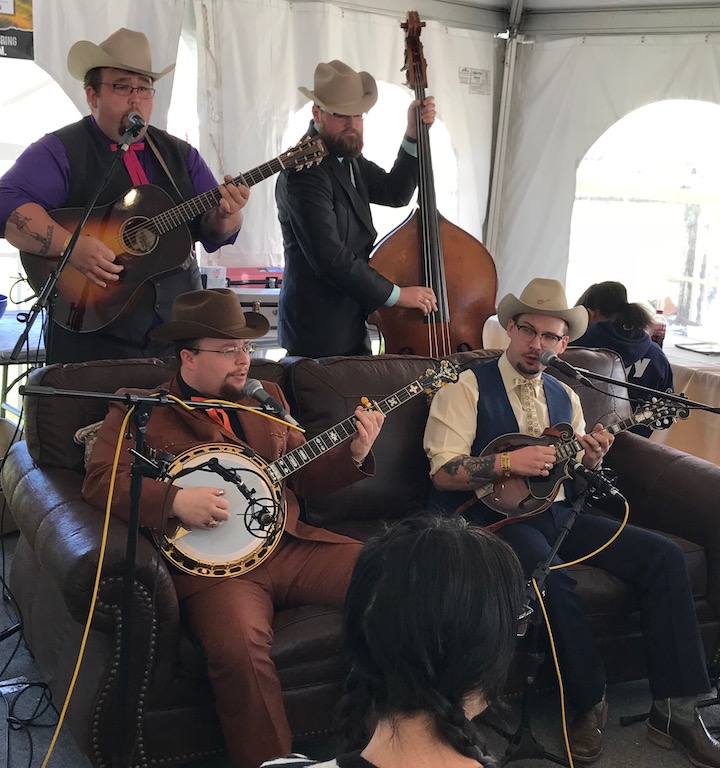 'Po Ramblin' Boys – A BIG Hit at Merlefest!
Knee-Deep In Bluegrass
SHOW 774– HOUR 1-Week of April 30, 2018
Segment 1-
Show Open & Theme-Knee-Deep In Bluegrass-Terry Baucom
Songs-Cumberland Blues-Travelin' McCourys / Fork In The Road-Infamous Stringdusters
Song- Drumbeats On The Watchtower-Peter Rowan
Segment Time: 14:46
Segment 2-
:15 bumper bed
Songs- Cottontown-Russell Moore & IIIrd Tyme Out / Cedar Hill-Casey Campbell
Song-Carroll County Accident-James King
(Sponsors) Lil John's / IBMA /Appalachian Festival
* Breaking New Ground-Seldom Scene
Segment Time: 14:00
Segment 3-
:15 bumper

Song- Without Mentioning Your Name-Flashback / Queen of Carolina-Claybank
Song-Tell Me You're Not Leaving-Volume Five
Song-Midnight and Dawn-Deer Creek Boys
The Crooked Road / Denton Farm Park / Dollywood BBQ & Bluegrass
* Baby, Now That I've Found You-Alison Krauss
Segment Time: 16:51
Segment 4- "Vintage Vault" – The Bluegrass Cardinals
Song-I Couldn't Believe It Was True
Song-Are You Missing Me
(Sponsors) Lowe Vintage / Red White & Bluegrass / Pickin' In Parsons
* Phoenix Arise-Becky Buller
Segment Time: 10:15
Local Station I.D.
Hour 2- Show 774
Segment 5-
:15 bumper bed

Song- Thunder Dan-Sideline
Song-Rainy Day Blues-Terry Baucom's Dukes of Drive
Segment Time: 6:38
Segment 6-
:15 bumper bed

Song-El Dorado Blue-Balsam Range w/Atlanta Pops
Song- Until I Cross That Line-Lonely Heartstring Band
Song-One Blue Stone-Jon Weisberger w/Shawn Camp & Del McCoury
(Sponsors) IBMA / Denton Farm Park / Appalachian Festival
* Bluegrass Ramble-Bill Monroe
Segment Time: 13:12
Segment 7-
:15 bumper bed

Song- Cold On The Shoulder-Tony Rice
Songs- Thinking About You-Doyle Lawson & Quicksilver / Darby's Castle-Paul Brewster
(Sponsors) Lil John's / Dollywood BBQ & Bluegrass / The Crooked Road
*Anything Southbound-Larry Cordle
Segment Time: 12:32
Segment 8-
:15 bumper bed

Songs-The Cold Hard Facts-Jeff White / Suzanne-Harley Allen & Mike Lily
Song-Me and Bobby McGee-Boone Creek (from live board recording)
(Sponsors) Red White and Bluegrass / Lowe Vintage / Pickin In Parsons
Segment Time: 13:39
*Still Climbing Mountains-Blue Highway
Segment 9-
:15 bumper bed

Song-Steel Drivin' Man-Dailey & Vincent
Closing Theme-Winslow-Terry Baucom
Segment Time: 5:39
Segment 10 – Show PROMO :30
*denotes added selections for npr affiliates
Knee-Deep In Bluegrass is a Production of John Boy & Billy, Inc. All Rights Reserved. For questions, tech support, to become an affiliate or get advertising rates, contact Cindy Baucom: [email protected] Call or Text (704) 221-2847
THANK YOU!!!