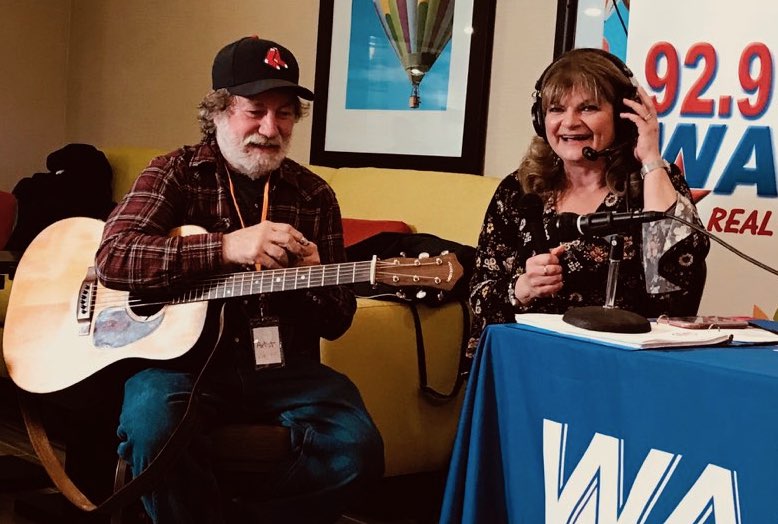 Luthier, Guitarist and Friend, WAYNE HENDERSON
Knee-Deep In Bluegrass
SHOW 767– HOUR 1-Week of March 12, 2018
Segment 1-
Show Open & Theme-Knee-Deep In Bluegrass-Terry Baucom
Song- Jimmy JD and Paul-Junior Sisk & Ramblers Choice
Songs- City of New Orleans-Seldom Scene / Cincinnati Rag-Wayne Henderson
Segment Time: 11:06
Segment 2-
:15 bumper bed
Songs- What Do You Say-Sierra Hull / Miles Between Them-Unspoken Tradition
Songs-Now That's A Song-Volume 5 / Even Somebody Like Me-Dukes of Drive
(Sponsor) Merlefest 2018 / Swift River Music
• The Good Things Outweigh The Bad-Curtis McPeake & Andy May
• Someone Else-Mike Bentley
Segment Time: 20:53
Segment 3-
:15 bumper

Songs- It's A Way of Life-Edgar Loudermilk / It'll Be Too Late-Feller & Hill
Song-Coon Dog Cemetery-Milan Miller
Song-Cold Rain-Breaking Grass
(Sponsor) Adams Bluegrass
Segment Time: 13:28

Segment 4- "Vintage Vault" – Stanley Brothers
Song-How Mountain Girls Can Love
Song-Don't Cheat In Our Hometown
(Sponsor) Lowe Vintage Instrument Company
Segment Time: 6:28
Local Station I.D.
Hour 2- Show 767
Segment 5-
:15 bumper bed

Song- First One Back To Town-Del McCoury Band
Song-Waiting On My Heart To Break-Curtis Wright
Segment Time: 8:30
Segment 6-
:15 bumper bed

Songs- Soul of a Mountain Man-Jeff Brown / Love Reunited-Commonwealth BG Band
Songs- Crying Over You-Trailblazers / Boeing Boeing 707-Chris Roberts
(Sponsor) Merlefest 2018
Segment Time: 15:16
Segment 7-
:15 bumper bed

Song- Rainy Day Blues-Dukes of Drive
Song-Calamity Jane-Becky Buller w/Rhonda Vincent
Song-Game of Thrones-Flatt Lonesome
(Sponsor) Adams Bluegrass / Swift River Music
* Here Comes The Flood-Dailey & Vincent
Segment Time: 18:02
Segment 8-
:15 bumper bed

Song- Willie Jones-Rob Ickes & Trey Hensley
Songs- Guitar Case-Doyle Lawson / Play By Your Own Rules-Sam Bush
(Sponsor) Lowe Vintage Instrument Company
Segment Time: 12:33
Segment 9-
:15 bumper bed

Song-Tomorrow I'll Be Gone-Johnson Mountain Boys
Closing Theme-Winslow-Terry Baucom
Segment Time: 5:39
Segment 10 – Show PROMO :30
*denotes added selections for npr affiliates
Knee-Deep In Bluegrass is a Production of John Boy & Billy, Inc. All Rights Reserved. For questions, tech support, to become an affiliate or get advertising rates, contact Cindy Baucom: [email protected] Call or Text (704) 221-2847
THANK YOU!