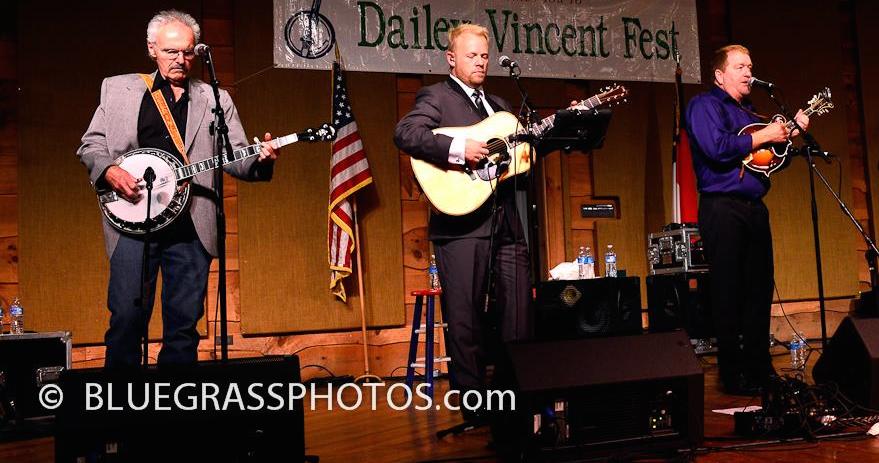 Knee-Deep In Bluegrass
SHOW 765– HOUR 1-Week of February 26, 2018
Segment 1-
Show Open & Theme-Knee-Deep In Bluegrass-Terry Baucom
Song- I Want To Be Loved-Lawson & Williams
Songs- Kentucky Blue-Billy Droze / Ride & Roll-Audie Blaylock
Segment Time: 11:55
Segment 2-
:15 bumper bed
Songs- Rock Hearts-Larry Sparks / Cowboy Man-Snyder Family Band
Song-Blood Stained Bible-Chosen Road
Song-Dakota-Bill Evans
(Sponsor) Merlefest 2018
* I Fell Short-Frank Solivan & Dirty Kitchen w/Rob Ickes
Segment Time: 19:03
Segment 3-
:15 bumper

Song- Umbrella-Summer Brooke & The Mountain Faith Band
Songs-Little Sadie-Mountain Heart / New York Trains-Del McCoury
Song-Even Somebody Like Me-Terry Baucom's Dukes of Drive
(Sponsor) Adams Bluegrass
* You Know That I Would-Kenny & Amanda Smith
Segment Time: 19:30
Segment 4- "Vintage Vault" – Kenny Baker & Joe Greene
Song-High Country
Song-Live and Let Live
(Sponsor) Lowe Vintage Instrument Company
Segment Time: 8:57
Local Station I.D.
Hour 2- Show 765
Segment 5-
:15 bumper bed

Song- Uncle Pen-Ricky Skaggs
Song-Lucky Guy-Jeremy Garrett
Segment Time: 7:04
Segment 6-
:15 bumper bed

Songs-Rhythm of the Wheels-Rhonda Vincent / King of Babylon-Pat Flynn
Songs- My Lonely Heart-Big Country Bluegrass / Handmade Nails…-Randy Kohrs
(Sponsor) Merlefest 2018
Segment Time: 15:47
Segment 7-
:15 bumper bed

Song-Sunny Side of the Mountain-Dan Tyminski
Song-Rainy Day Blues-Terry Baucom's Dukes of Drive
Song-Cast Aside-Dailey & Vincent
(Sponsor) Adams Bluegrass
* Still Climbing Mountains-Blue Highway
Segment Time: 13:49
Segment 8-
:15 bumper bed

Songs- Delia-Grascals / Talk It Out-BlueRidge
Song- All My Life-Flatt Lonesome
(Sponsor) Lowe Vintage Instrument Company
Segment Time: 15:39
* When A Woman Leaves-Buddy Melton & Milan Miller
Segment 9-
:15 bumper bed

Song-Movin' On-Shannon Slaughter
Closing Theme-Winslow-Terry Baucom
Segment Time: 6:12
Segment 10 – Show PROMO :30
*denotes added selections for npr affiliates
Knee-Deep In Bluegrass is a Production of John Boy & Billy, Inc. All Rights Reserved. For questions, tech support, to become an affiliate or get advertising rates, contact Cindy Baucom: [email protected] Call or Text (704) 221-2847
THANK YOU!