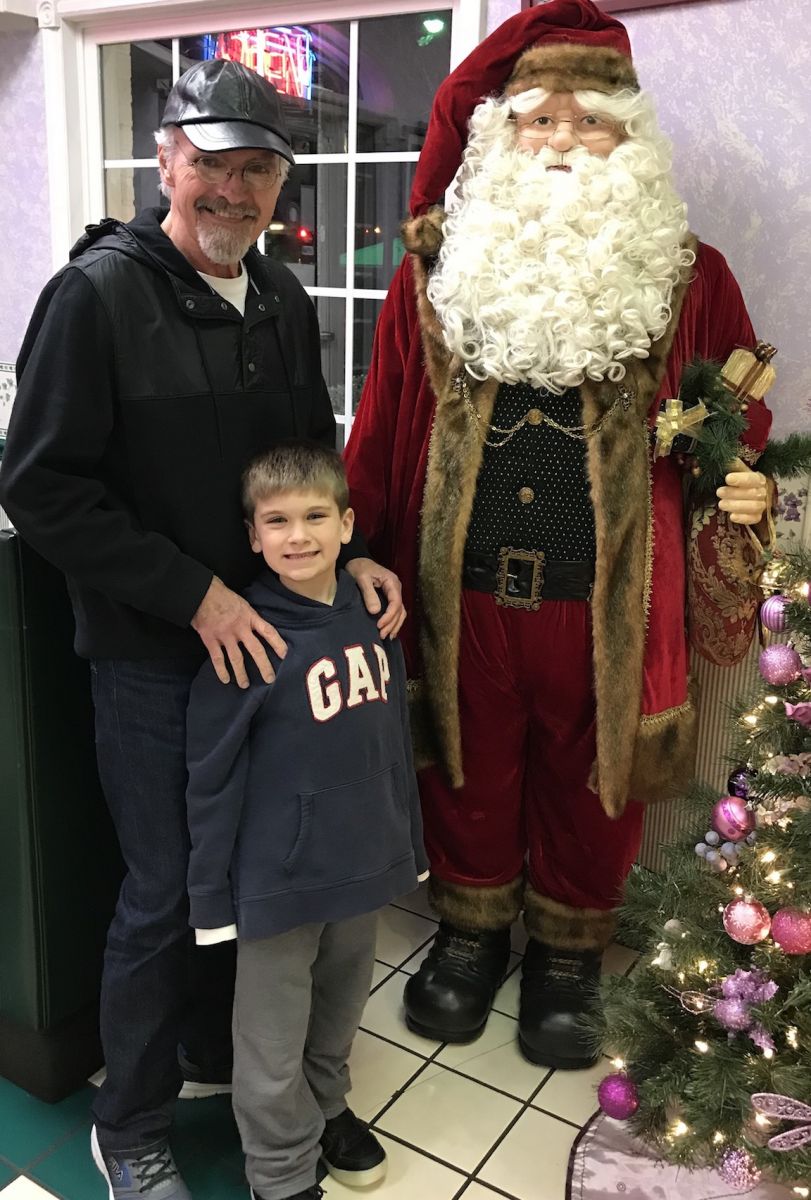 SHOW 754– HOUR 1-Week of December 11, 2017
Segment 1-
Show Open & Theme-Knee-Deep In Bluegrass-Terry Baucom
Song-Sadie's Got Her New Dress On-Doyle Lawson & Quicksilver
Songs- Kentucky Bordline-Rhonda Vincent / Christmas Time Back Home-Country Gentlemen
Segment Time: 12:39
Segment 2-
:15 bumper bed
Songs- I'll Go Stepping Too-Earls of Leicester / Walking In My Sleep-Laurie Lewis
Songs-Road That Winds-Audie Blaylock & Redline / Mary Did You Know-Sonya Isaacs
(Sponsors) Chord Buddy
*White House Blues-Boone Creek
Segment Time: 14:43
Segment 3-
:15 bumper

Songs- Home Sweet Home Revisited-Ricky Wasson / Think Of What You've Done-Larry Sparks
Song-I'll Still Write Your Name In The Sand-Lawson & Williams
Song-Til The Elf On The Shelf Is Dead-Milan Miller
(Sponsors) Adams Bluegrass
*Remember Who You Are-Gibson Brothers
Segment Time: 15:27
Segment 4- "Vintage Vault" – New Kentucky Colonels
Songs-I Know What It Means To Be Lonesome / Blackberry Blossom
(Sponsors) Lowe Vintage Instrument Company
*New Camptown Races-Wyatt Rice
Segment Time: 10:39
Local Station I.D.
Hour 2- Show 754
Segment 5-
:15 bumper bed

Song- Clary Mae-Hot Rize / Sleigh Ride-Mark O'Connor
Segment Time: 7:17
Segment 6-
:15 bumper bed

Songs- Down The Trail of Aching Hearts-Special Consensus/Harlan Rd-Newtown
Songs- Let Come & Go What May-Jeff Brown/New Kid In Town-Jackson & Whitley
(Sponsors) Chord Buddy
*Little Sadie-Mountain Heart
Segment Time: 19:21
Segment 7-
:15 bumper bed

Song- Take Me Back To Kentucky-Carolina Blue
Song-I'd Have A Dime-Mickey Galyean & Cullen's Bridge
Song- Christmas Day At My House-Summer Brooke & Mountain Faith
(Sponsors) Adams Bluegrass
*Wait A Minute-Lou Reid
Segment Time: 12:38
Segment 8-
:15 bumper bed

Songs- Sweetest Love-Greg Blake / Timepiece-Milan Miller
Song- It's Christmas Time-Doyle Lawson & Quicksilver
(Sponsors) Lowe Vintage Instrument Company
*Phoenix Arise-Becky Buller
Segment Time: 15:29
Segment 9-
:15 bumper bed

Song-Fourth and Goal-Terry Baucom's Dukes of Drive
Closing Theme-Winslow-Terry Baucom
Segment Time: 7:25
Segment 10 – Show PROMO :30
*Denotes additional songs included for npr affiliates
Knee-Deep In Bluegrass is a Production of John Boy & Billy, Inc. All Rights Reserved. For questions, tech support, to become an affiliate or get advertising rates, contact Cindy Baucom: [email protected] Call or Text (704) 221-2847
THANK YOU!
My friend, Shannon McCombs of GoGo Show Prep, has produced a 1 hour Holiday Special with Jerry Douglas and Shawn Camp. I have made it available on the server in the "xtra Holiday Show" folder. Please feel free to download and use on your station at no charge. Local avail spots left available.