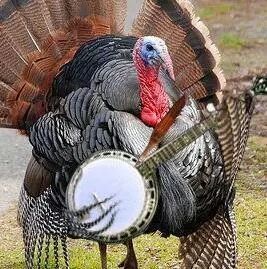 (graphic credit: Rebekah Long)
SHOW 751– HOUR 1-Week of November 20, 2017
Segment 1-
Show Open & Theme-Knee-Deep In Bluegrass-Terry Baucom
Song-Don't Mean Nothin'-Infamous Stringdusters
Songs- Friend and a Friend-Molly Tuttle / Cedar Hill-Casey Campbell w/David Grisman
Segment Time: 11:49
Segment 2-
:15 bumper bed
Songs- Highway-Gibson Brothers / Beautiful Star-Ralph Stanley
Songs-Hillbilly Heros-Hammertowne / Timepiece-Milan Miller
(Sponsors) Balsam Range Art of Music Festival
*Song-Gentle On My Mind-John Hartford
Segment Time: 19:03
Segment 3-
:15 bumper

Songs- If I Ever Get Home-Big Country Bluegrass / A Drop In The Bucket-Summer Wages
Songs-Bonnie Goodbye-Carolina Blue / Steel Drivin' Man-Dailey & Vincent
(Sponsors) Chord Buddy / Christmas In The Smokies
*Song-Harlan Road-NewTown
Segment Time: 15:32
Segment 4- "Vintage Vault" – L. W. Lambert &
The Blue River Boys
Songs-Low Country / A Beautiful Life
(Sponsors) Lowe Vintage Instrument Company
*Song-River Runs Red-The Steeldrivers
Segment Time: 10:45
Local Station I.D.
Hour 2- Show 751
Segment 5-
:15 bumper bed

Song- Have Mercy-Steep Canyon Rangers
Song- Pinnacle Mountain Breakdown-Jason Davis
Segment Time: 7:57
Segment 6-
:15 bumper bed

Songs- Christmas Is Near-Larry Sparks / Settin- Me Up-Seldom Scene
Song-Buckaroo-Wayne Henderson
(Sponsors) Balsam Range Art of Music Festival / IBMA / Deering Banjos
*Song-Instead-Southern Raised
Segment Time: 14:09
Segment 7-
:15 bumper bed

Song-The Margaret Keene-Mile Twelve
Song-Life To My Days-Doyle Lawson & Quicksilver
Song-What Will They Say About You-Terry Baucom's Dukes of Drive
(Sponsors) Christmas In The Smokies / Chord Buddy
*Song-That's The Power In The Blood-Little Roy & Lizzy
Segment Time: 15:45
Segment 8-
:15 bumper bed

Song- Boat on the Ocean-Aaron Bibelhauser
Song-Gone On Before-Larry Cordle
(Sponsors) Lowe Vintage Instrument Company
*Song-Crimora Church of the Brethren-Junior Sisk
Segment Time: 12:37
Segment 9-
:15 bumper bed

Song-Gimme All The Love You Got-Dailey & Vincent
Closing Theme-Winslow-Terry Baucom
Segment Time: 6:22
Segment 10 – Show PROMO :30
*Denotes additional songs included for Bluegrass Country
Knee-Deep In Bluegrass is a Production of John Boy & Billy, Inc. All Rights Reserved. For questions, tech support, to become an affiliate or get advertising rates, contact Cindy Baucom: [email protected] Call or Text (704) 221-2847
THANK YOU!