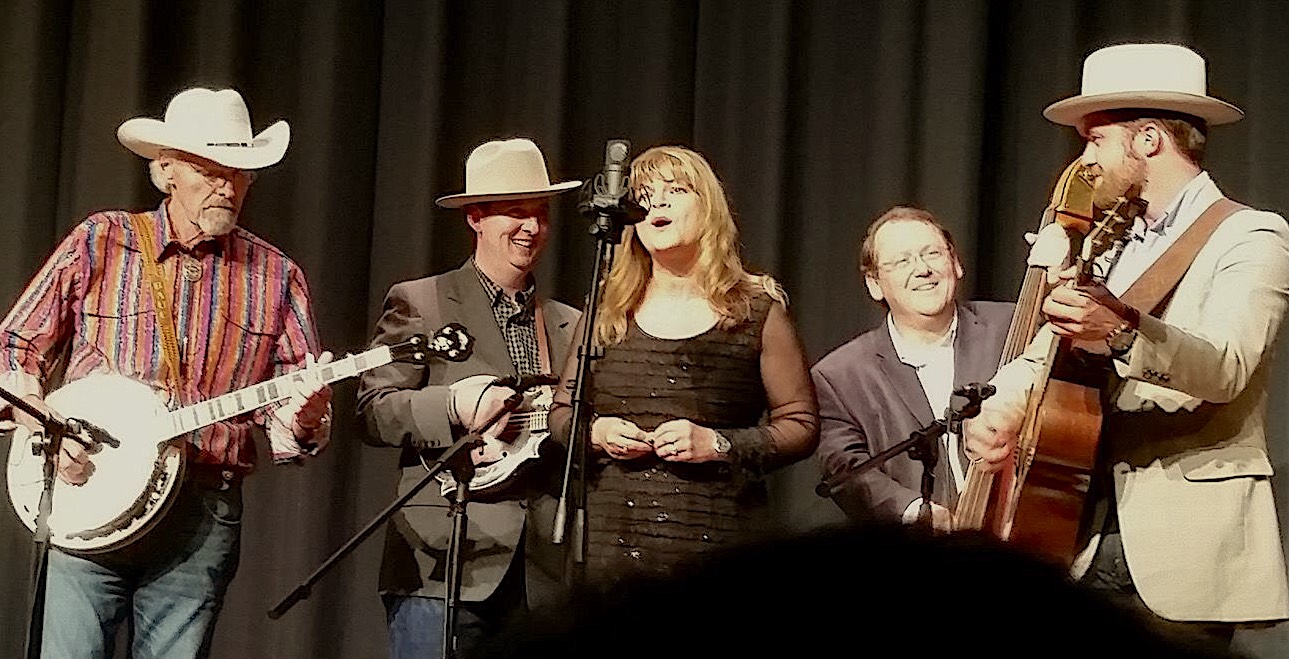 SHOW 746– HOUR 1-Week of October 16, 2017
Show Open & Theme-Knee-Deep In Bluegrass-Terry Baucom
Song-Long Gone Out West Blues-Joe Mullins & The Radio Ramblers
Songs- Ruby, Are You Mad-O'Connor Band / Who's Malloy-Snyder Family Band
Segment Time: 11:40
Segment 2-
:15 bumper bed
Songs- Annie-Breaking Grass / Back To Dixie-McPeak Brothers
Songs-Crossing Over Black Mountain-Thomm Jutz / Little Liza Jane-Adam Steffey
(Sponsors) Adams Bluegrass
Segment Time: 12:43
Segment 3-
:15 bumper

Song- Girl From River Run-Steve Martin & The Steep Canyon Rangers
Song-Back In The Country-The Kody Norris Show
Song-Even If You Never Call Me Back-FY5
Song-They'll Never Take Her Love From Me-Mark Kuykendall, & Bobby Hicks
(Sponsors) Balsam Range Art of Music Festival
Segment Time: 16:21
Segment 4-Lowe Vintage – "Vintage Vault" – Hylo Brown
Songs-Where The Soul of Man Never Dies / No Hidin' Place Down Here
(Sponsors) Lowe Vintage Instrument Company / All-American Indoor Music Festival
Segment Time: 6:59
Local Station I.D.
Hour 2- Show 746
Segment 5-
:15 bumper bed

Song-Walking The Blues-Lynn Morris
Song- Stepping Stones-Terry Baucom with Paul Williams
Segment Time: 6:34
Segment 6-
:15 bumper bed

Songs-Up The Ladder-Town Mountain / Memories of Home-The Trailblazers
Songs-Got Leaving On Her Mind-Mark Newton / Go Ahead & Leave-Jerry Douglas Band
(Sponsors) Adams Bluegrass (Anderson, SC Bluegrass Festival)
Segment Time: 14:49
Segment 7-
:15 bumper bed

Songs-Airmail Special-Deer Creek Boys / Mayhayley's House-Lonesome River Band
Song-Life To My Days-Doyle Lawson & Quicksilver
(Sponsors) Balsam Range Art of Music Festival
Segment Time: 11:10
Segment 8-
:15 bumper bed

Song- Heavy Traffic Ahead-Ricky Skaggs & Steve Wariner
Song- Next New Heartbreak-Brad Hudson
Song-I'm A Wanderer-Chris Jones & The Night Drivers
(Sponsors) Lowe Vintage / All-American Indoor Music Festival
Segment Time: 13:02
Segment 9-
:15 bumper bed

Song-Could We Get Any Closer-Jim Lauderdale
Closing Theme-Winslow-Terry Baucom
Segment Time: 5:42
Segment 10 – Show PROMO
Knee-Deep In Bluegrass is a Production of John Boy & Billy, Inc. All Rights Reserved. For questions, tech support, to become an affiliate or get advertising rates, contact Cindy Baucom: [email protected] Call or Text (704) 221-2847
THANK YOU!