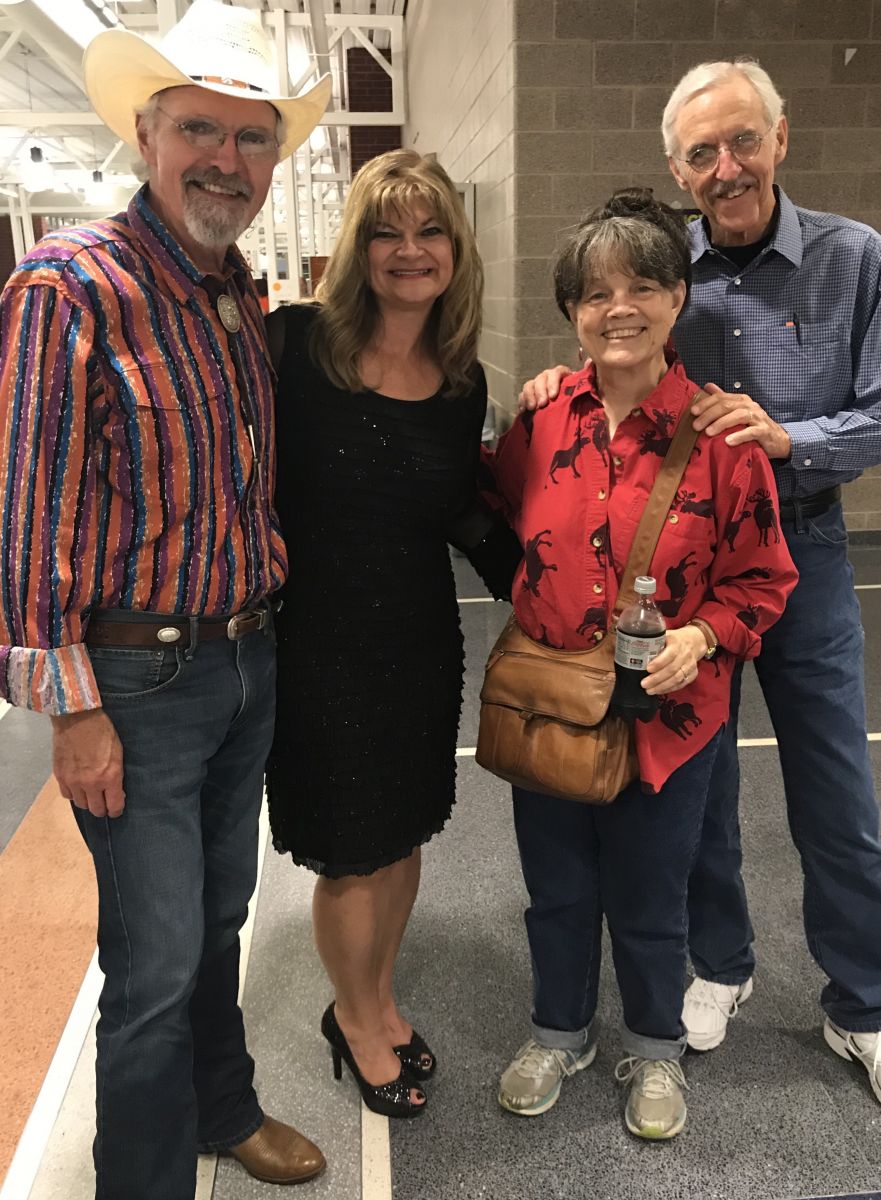 Terry and Cindy Baucom with Lynn Morris and Marshall Wilborn
SHOW 745– HOUR 1-Week of October 9, 2017
Show Open & Theme-Knee-Deep In Bluegrass-Terry Baucom
Song-Something 'Bout That Suitcase-Balsam Range
Songs- Why Did You Wander-Earls of Leicester / Wild Montana Skies-Special C
Segment Time: 13:22
Segment 2-
:15 bumper bed
Songs- What Goes Around-Junior Sisk / Dance With Me-Alison Brown
Songs-Everywhere I Go…-Rob Ickes & Trey Hensley / Whoa Mule-Raymond Fairchild
(Sponsors) Adams Bluegrass / IBMA
Song-Where I'm Bound-The Country Gentlemen
Segment Time: 17:13
Segment 3-
:15 bumper

Song- Carolina Any Day-Terry Baucom's Dukes of Drive
Song-I Got Mexico-Carolina Road w/Eddy Raven
Songs-Roll In My Sweet Baby's Arms-Flatt & Scruggs / Hwy 40 Blues-Cordle & Skaggs
(Sponsors) All-American Music Festival / Deering Banjos
Song-I Went Back Home Today-The Boxcars
Segment Time: 15:36
Segment 4-Lowe Vintage – "Vintage Vault" – Dale Potter
Song-Draggin' The Bow / Bully of the Town / Rubber Dolly
(Sponsors) Lowe Vintage Instrument Company / Balsam Range Art of Music
Song-We'll Burn That Bridge-Josh Williams
Segment Time: 8:55
Local Station I.D.
Hour 2- Show 745
Segment 5-
:15 bumper bed

Song-Just Get Up and Go-Mountain Heart
Song- Thinking About You-Doyle Lawson & Quicksilver the original band
Segment Time: 6:34
Segment 6-
:15 bumper bed

Song-Travelin' That Lonesome Road-Jeff White
Song- Until I Cross That Line-Lonely Heartstring Band
Songs-Jerusalem Ridge-O'Connor Band / Pan American-Seldom Scene
(Sponsors) Deering Banjos / Adams Bluegrass
Song-Through The Window of a Train-Blue Highway
Segment Time: 17:45
Segment 7-
:15 bumper bed

Songs-Heartaches & Teardrops-Cedar Hill / It's Not That Cold In Montana-Nu-Blu
Song-Big Train-Larry Stephenson Band
(Sponsors) IBMA / All-American Bluegrass Festival
Song-Somebody's Missing You-Lonesome River Band
Segment Time: 13:30
Segment 8-
:15 bumper bed

Song- Going Back To Bristol-Shawn Camp
Song-Ocean of Diamonds-Bluegrass Album Band
Song-Cross Over To The Other Side of Jordan-Dailey & Vincent
(Sponsors) Balsam Range Art of Music Festival / Lowe Vintage
Song-Pretty Little Girl From Galax-Russell Moore & IIIrd Tyme Out
Segment Time: 13:27
Segment 9-
:15 bumper bed

Song-Let Her Go-Travelin' McCourys
Closing Theme-Winslow-Terry Baucom
Segment Time: 8:06
Segment 10 – Show PROMO
Knee-Deep In Bluegrass is a Production of John Boy & Billy, Inc. All Rights Reserved. For questions, tech support, to become an affiliate or get advertising rates, contact Cindy Baucom: [email protected] Call or Text (704) 221-2847
THANK YOU!