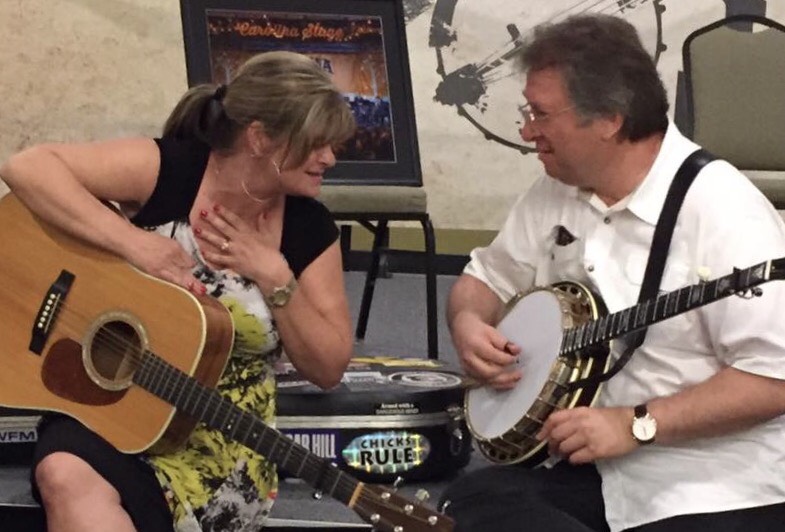 With My Friend, Jens Kruger (…always a treat to share songs with The Kruger Brothers!)
SHOW 743– HOUR 1-Week of September 25, 2017
Show Open & Theme-Knee-Deep In Bluegrass-Terry Baucom
Song-Why Did You Wander-Earls of Leicester
Songs- Unholy Water-Sister Sadie / You Know That I Would-Kenny & Amanda Smith
Segment Time: 12:41
Segment 2-
:15 bumper bed
Song- He Died A Rounder at 21-Junior Sisk
Song- Roll In My Sweet Baby's Arms-Flatt & Scruggs
Song-Every Blue Moon-Kristy Cox
Song-When He Calls-Darin & Brooke Aldridge
(Sponsors)
Song-Anything Southbound-Larry Cordle & Lonesome Standard Time
Segment Time: 15:14
Segment 3-
:15 bumper

Songs- Lefty's Song-Sam Bush / Jerusalem Ridge-O'Connor Band
Song-Blue Ridge Mountain Song-Alan Jackson
(Sponsors)
Song-Foolish Game of Love-Bradford Lee Folk
Segment Time: 18:15
Segment 4-Lowe Vintage – "Vintage Vault" – Emmylou Harris
Song-I'll Go Stepping Too-Emmylou Harris
Song-Gold Watch and Chain-Emmylou Harris
(Sponsors)
Song-Game of Thrones theme-Flatt Lonesome
Segment Time: 12:02
Local Station I.D.
Hour 2- Show 743
Segment 5-
:15 bumper bed

Song-Sold-Dave Adkins
Song- Suzanne-Harley Allen & Mike Lilly Band
Segment Time: 6:14
Segment 6-
:15 bumper bed

Songs-Chain Gang Blues-Balsam Range / Goin' Round This World-Ralph Stanley II
Songs- If I Could Go Back Home Again-JD Crowe / Jolene-Rhonda Vincent
(Sponsors)
Song-Witchita Lineman-Hot Rize
Segment Time: 15:20
Segment 7-
:15 bumper bed

Song-Umbrella-Summer Brooke & Mountain Faith
Songs-Crazy If You Let It-Thomm Jutz / God's Love-Dailey & Vincent
Song-I Used To Love Parades-Blue Highway
(Sponsors)
Song-Will You Meet Me Over Yonder-Doyle Lawson & Quicksilver
Segment Time: 17:25
Segment 8-
:15 bumper bed

Songs- We Live In Two Different Worlds-Larry Rice / This Old Guitar & Me-Grasstowne
Song-One Step Ahead of the Blues-Church Sisters
(Sponsors)
Song-Secret of the Waterfall-Country Gentlemen
Segment Time: 13:49
Segment 9-
:15 bumper bed

Song-Simple Life-Ricky Skaggs & Kentucky Thunder
Closing Theme-Winslow-Terry Baucom
Segment Time: 6:23
Segment 10 – Show PROMO
Knee-Deep In Bluegrass is a Production of John Boy & Billy, Inc. All Rights Reserved. For questions, tech support, to become an affiliate or get advertising rates, contact Cindy Baucom: [email protected] Call or Text (704) 221-2847
THANK YOU!!!