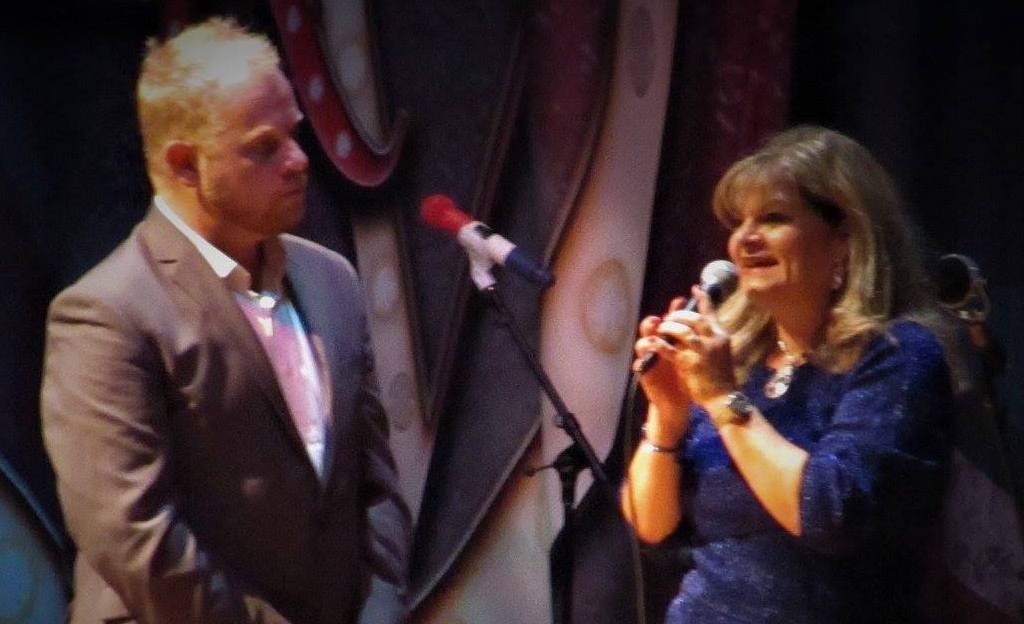 It was a pleasure serving as Stage Host for Dailey & Vincent LandFest in the Mountains
SHOW 741– HOUR 1-Week of September 11, 2017
Show Open & Theme-Knee-Deep In Bluegrass-Terry Baucom
Song-That Feel Good Music-Dailey & Vincent
Songs-New York Trains-Del McCoury Band / Cold Rain-Breaking Grass
Segment Time: 12:24
Segment 2-
:15 bumper bed
Song-Umbrella-Summer Brooke & Mountain Faith Band
Song- Til The Rivers All Run Dry-Doyle Lawson & Quicksilver
Songs-Remember Who You Are-Gibson Brothers / Stepping Stones-T Baucom P Williams
(Sponsors)
Song-Anything Southbound-Larry Cordle & Lonesome Standard Time
Segment Time: 17:53
Segment 3-
:15 bumper

Songs- Wherever I Wander-Synder Family / Up 18 North-Kruger Brothers
Songs-I Got Mexico-Carolina Road w/Eddy Raven / Maggie's Farm-Mountain Heart
(Sponsors)
Song-Katie's Winter Love-BlueRidge
Segment Time: 17:50
Segment 4-Lowe Vintage – "Vintage Vault" Bill Monroe
Song-Working On A Building-Bill Monroe
Song-I Saw The Light-Bill Monroe
(Sponsors)
Song-Bluegrass Ramble-Bill Monroe
Segment Time: 9:13
Local Station I.D.
Hour 2- Show 741
Segment 5-
:15 bumper bed

Song-You Don't Know What You Got Until Its Gone-Sideline
Song- Crazy If You Let It-Thomm Jutz
Segment Time: 7:23
Segment 6-
:15 bumper bed

Songs-I Went Back Home Today-Boxcars / Up On Claybank-Claybank
Song-Poison Cove-Russell Moore & IIIrd Tyme Out
Song-The World Is Not My Home-Blue Highway
(Sponsors)
Song-What Goes Around-Junior Sisk & Ramblers Choice
Segment Time: 16:49
Segment 7-
:15 bumper bed

Songs-Lonesome Lesson Learned-Special C / Lonesome Fiddle Blues-Presley Barker
Song-Let Her Go-Travelin' McCourys
(Sponsors)
Song-Train That Carried My Girl From Town-Earls of Leicester
Segment Time: 14:50
Segment 8-
:15 bumper bed

Songs- Last Thing On My Mind-Tony Rice / Just Joshin'-Phil Leadbetter
Song-John Henry Blues-Jim Mills with Tim Stafford
(Sponsors)
Song-Dance With Me-Alison Brown with Rob Ickes
Segment Time: 16:08
Segment 9-
:15 bumper bed

Song-Carolina In The Fall-Kruger Brothers
Closing Theme-Winslow-Terry Baucom
Segment Time: 7:05
Segment 10 – Show PROMO
Knee-Deep In Bluegrass is a Production of John Boy & Billy, Inc. All Rights Reserved. For questions, tech support, to become an affiliate or get advertising rates, contact Cindy Baucom: [email protected] Call or Text (704) 221-2847
THANK YOU!