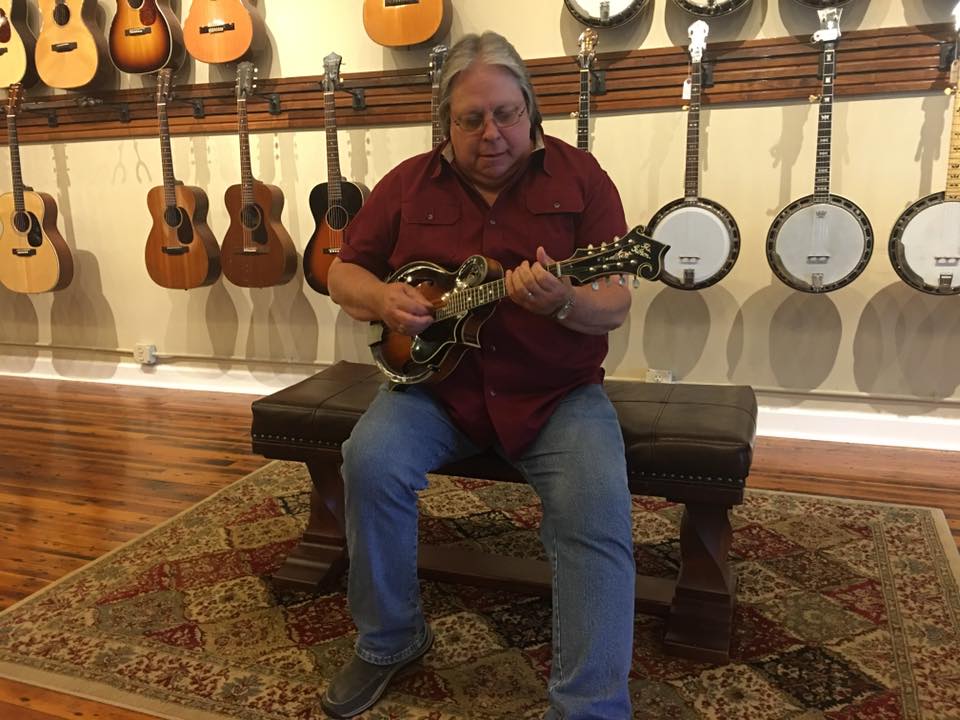 Rex Wiseman joins me from Lowe Vintage to talk about his release, "Welcome Home"
SHOW 732– HOUR 1-Week of July 10, 2017
Show Open & Theme-Knee-Deep In Bluegrass-Terry Baucom
Songs-Umbrella-Summer Brooke & Mountain Faith / You Could Be Me-Del McCoury
Song-Through The Window of a Train-Blue Highway
Segment Time: 12:10
Segment 2-
:15 bumper bed
Song-Old Camp Meeting Time-Rex Wiseman w/Oak Ridge Boys
Songs- My Kentucky Home-Edgar Loudermilk / Dance With Me-Alison Brown
(Sponsor Support)
Song-Wiating For The Boys To Come Home-Country Gentlemen
Segment Time: 15:08
Segment 3-
:15 bumper

Songs- I'm Ragged But I'm Right-Rex Wiseman / Stray Dogs & Alley Cats-Harley Allen
Song-Someone Else-Mike Bentley with Charli Robertson
(Sponsor Support)
Song-I've Endured-OlaBelle Reed
Segment Time: 14:10
Segment 4-The Vintage Vault – Osborne Brothers
Song-Rocky Top-Osborne Brothers
Song-Kentucky Waltz-Osborne Brothers
(Sponsor Support)
Song-Breaking New Ground-Seldom Scene
Segment Time: 10:32
Local Station I.D.
Hour 2- Show 732
Segment 5-
:15 bumper bed

Song-How A Cowgirl Says Goodbye-Deer Creek Boys
Song-The Cold Hard Facts-Jeff White
Segment Time: 7:01
Segment 6-
:15 bumper bed

Song-Little Mountain Church-Rex Wiseman w/Dailey & Vincent
Song- Dancy's Dream-Rex Wiseman
(Sponsor Support)
Segment Time: 16:05
Song-Cold Rain-Breaking Grass
Segment 7-
:15 bumper bed

Song-Back To Dixie-Rex Wiseman / Put My Little Shoes Away-Rex Wiseman
Song-Thinking About You-Doyle Lawson & Quicksilver the original band
(Sponsor Support)
Segment Time: 15:58
Song-I'm Still Alive-Audie Blaylock & Redline
Segment 8-
:15 bumper bed

Songs-You Gotta Swim-Rex Wiseman / Mary's Rock-Terry Baucom's Dukes of Drive
Song-All Grassed Up-Eddy Raven with Carolina Road
(Sponsor Support)
Song-Darby's Castle-Paul Brewster
Segment Time: 16:12
Segment 9-
:15 bumper bed

Song-Brown Hill-The Boxcars
Closing Theme-Winslow-Terry Baucom
Segment Time: 5:45
Segment 10 – Show PROMO
Knee-Deep In Bluegrass is a Production of John Boy & Billy, Inc. All Rights Reserved. For questions, tech support, to become an affiliate or get advertising rates, contact Cindy Baucom: [email protected] Call or Text (704) 221-2847 – NOTE NEW NUMBER
THANK YOU!