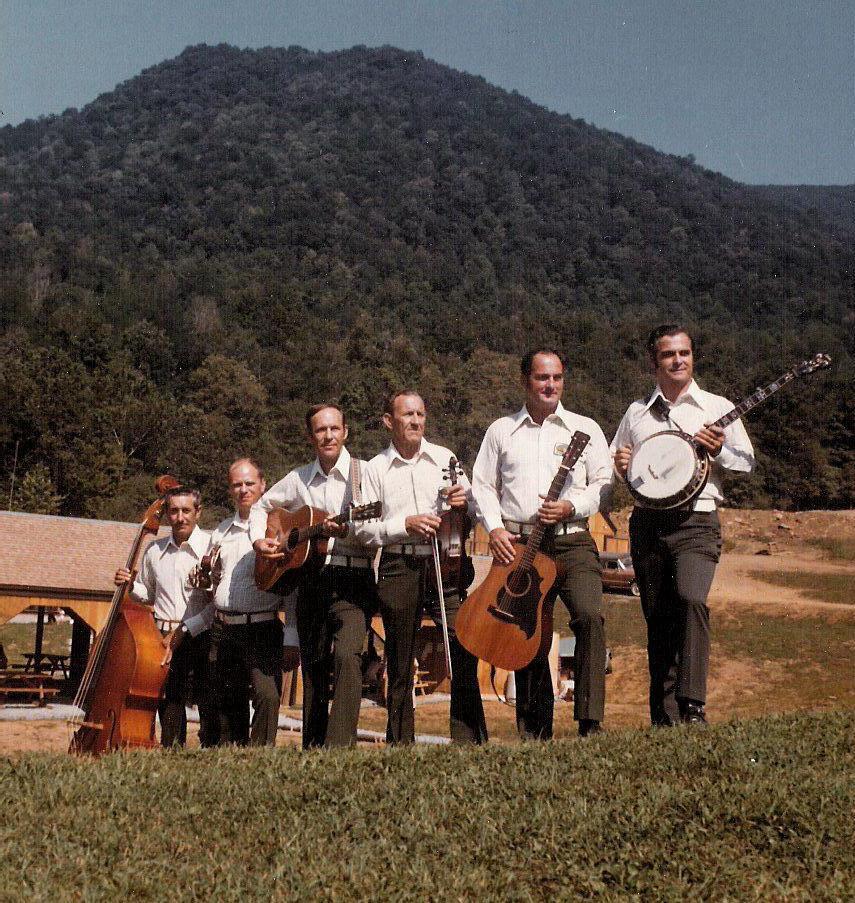 My Father's Band, The Tarheel Travelers, circa 1975
SHOW 728– HOUR 1-Week of June 12, 2017-Father's Day Edition
Show Open & Theme-Knee-Deep In Bluegrass-Terry Baucom
Songs-Something 'Bout That Suitcase-Balsam Range / Big River-Town Mountain
Song-Whitewater-Bela Fleck
Segment Time: 13:49
Segment 2-
:15 bumper bed

Songs-Long I Ride-Special Consensus / The Guitar-Sierra Hull & Justin Moses
Songs- Tall Corn Stalk-Lou Reid & Carolina / Hillbilly Heros-Hammertowne
(Sponsor Support) Red White & Bluegrass Festival / Foothills Country Hams
Song-I Found My Daddy's Grass-Mickey Galyean & Cullens Bridge
Segment Time: 18:21
Segment 3-
:15 bumper

Songs- Wise County Jail-Jeff White / Phoenix Arise-Becky Buller
Song- I'm Ragged But I'm Right-Rex Wiseman
Song-Fork In The Road-Infamous Stringdusters
(Sponsor Support) Shriner's Bluegrass Festival / Pickin' In Parsons
Song-Cold Rain-Breaking Grass
Segment Time: 18:17
Segment 4-The Vintage Vault –Osborne Brothers (1970)
Song-Tennesse Hound Dog-Osborne Brothers
Song-Muddy Bottom-Osborne Brothers
(Sponsor Support) Lowe Vintage Instrument Company / Red White & Bluegrass
Song-I've Endured-OlaBelle Reed
Segment Time: 11:00
Local Station I.D.
Hour 2- Show 728
Segment 5-
:15 bumper bed

Song-Love Me As You'd Love The Rain-Doyle Lawson & Quicksilver
Song-Jailhouse Blues-Ronnie Bowman
Segment Time:
Segment 6-
:15 bumper bed

Song-Somebody's Missing You-Lonesome River Band
Songs-Someplace In France-Craig Market&Thomm Jutz / Stronger Everday-Richard Bennett
Song-My Walking Shoes-Here Today
(Sponsor Support) IBMA / Red White & Bluegrass / Pickin' In Parsons
Song-On A Monday-Jerry Douglas
Segment Time: 17:49
Segment 7-
:15 bumper bed

Songs- You Could Be Me-Del McCoury / You Live In A World All Your Own-Bill Monroe
Song-Fourth and Goal-Terry Baucom's Dukes of Drive
(Sponsor Support) Shriner's Bluegrass Festival / Foothills Country Hams
Song-This Feel Good Music-Dailey & Vincent
Segment Time: 13:28
Segment 8-
:15 bumper bed

Songs- Yellow Rock-Jim Brooks / Nothing But A Whippoorwill-Blue Highway
Song-New Camptown Races-Wyatt Rice
(Sponsor Support) Lowe Vintage / Red White & Bluegrass
Song-Every Blue Moon-Kristy Cox
Segment Time: 15:20
Segment 9-
:15 bumper bed

Song-What I Am-Alan Bibey with Ronnie Bowman
Closing Theme-Winslow-Terry Baucom
Segment Time: 7:22
Segment 10 – Show PROMO
Knee-Deep In Bluegrass is a Production of John Boy & Billy, Inc. All Rights Reserved. For questions, tech support, to become an affiliate or get advertising rates, contact Cindy Baucom: [email protected] Call or Text (336) 262-4020
THANK YOU!