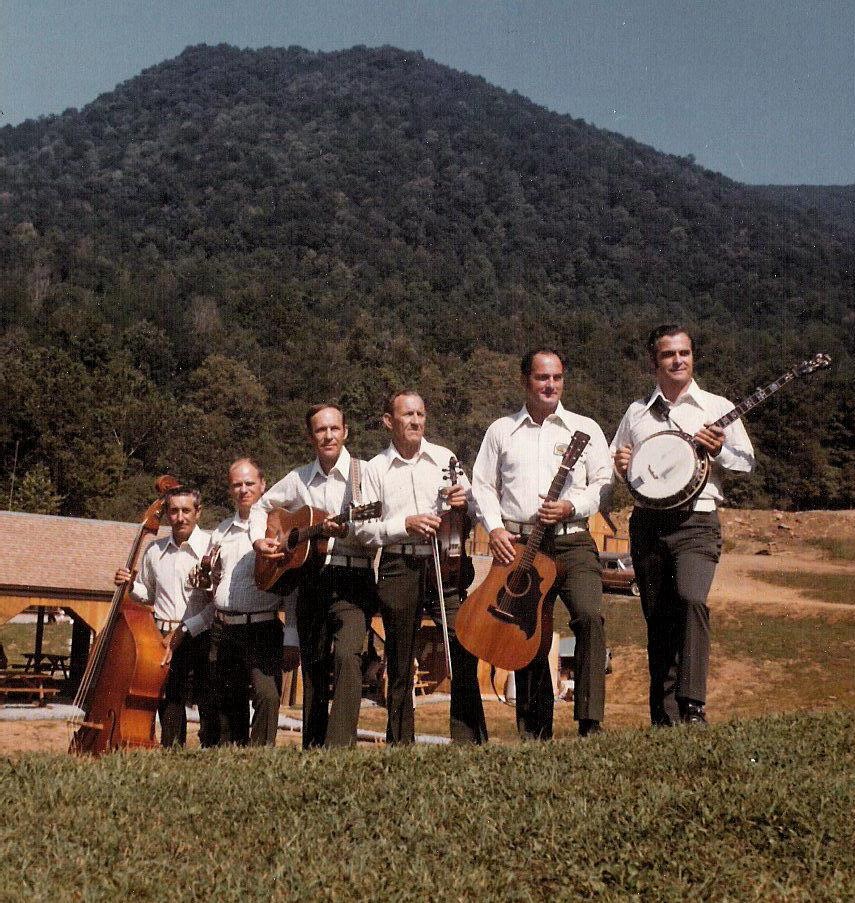 The photo above is The Tarheel Travelers from the early 1970's with my Dad, Jim Brooks, on Banjo
SHOW 727– HOUR 1-Week of June 5, 2017
Show Open & Theme-Knee-Deep In Bluegrass-Terry Baucom
Songs-Lonesome As I Am-Lonesome River Band / Blue Ridge Mountain Song-Alan Jackson
Song-I'm Country-Baucom Bibey Graham and Haley
Segment Time: 13:48
Segment 2-
:15 bumper bed

Songs-Eight More Miles-Bobby Osborne / Foolish Game of Love-Bradford Lee Folk
Songs- God's Love-Dailey & Vincent / Cabin On A Mountain-Danny Paisley
(Sponsor Support)
Song-River Runs Red-SteelDrivers
Segment Time: 18:14
Segment 3-
:15 bumper

Songs- How A Cowgirl Says Goodbye-Deer Creek Boys / Fiddlin' Around-Dierks Bentley
Song- Don't Cross The River-Doyle Lawson & Quicksilver (original band)
Song-The Girl I Love Don't Pay Me No Mind-Earls of Leicester
(Sponsor Support)
Song-Aim High-Steve Gulley & New Pinnacle
Segment Time: 16:27
Segment 4-The Vintage Vault –The Dillards
Song-Dooley-The Dillards
Song-Old Home Place-The Dillards / Ebo Walker-The Dillards
(Sponsor Support)
Segment Time: 8:13
Local Station I.D.
Hour 2- Show 727
Segment 5-
:15 bumper bed

Songs-Homemade Wine-Gibson Brothers / Carolina Wind-Irene Kelley
Segment Time: 7:09
Segment 6-
:15 bumper bed

Songs-Western Skies-Hot Rize / Til It Was Gone-Jamie Harper
Songs-Pan Handle Rag-Douglas, Ickes & Auldridge / Carolina Any Day-Dukes of Drive
(Sponsor Support)
Song-Big Joe-Joe Greene
Segment Time: 17:22
Segment 7-
:15 bumper bed

Songs- What Goes Around-Jr Sisk & Ramblers Choice / Another Town-Keith Whitley
Songs-You Know That I Would-Kenny & Amanda Smith / Cabin In Caroline-Kruger Bros.
(Sponsor Support)
Song-Highway 40 Blues-Larry Cordle & Lonesome Standard Time with Ricky Skaggs
Segment Time: 17:14
Segment 8-
:15 bumper bed

Song- My Heart-Kyle Perkins with Ronnie Bowman
Songs-My Heart Never Lies-Lou Reid & Terry Baucom / Digging Up Bones-Carolina Road
(Sponsor Support)
Song-When My Blue Moon Turns To Gold Again-Larry Sparks
Segment Time: 11:43
Segment 9-
:15 bumper bed

Song-Willie Jones-Rob Ickes & Trey Hensley
Closing Theme-Winslow-Terry Baucom
Segment Time: 7:16
Segment 10 – Show PROMO
Knee-Deep In Bluegrass is a Production of John Boy & Billy, Inc. All Rights Reserved. For questions, tech support, to become an affiliate or get advertising rates, contact Cindy Baucom: [email protected] Call or Text (336) 262-4020
THANK YOU!