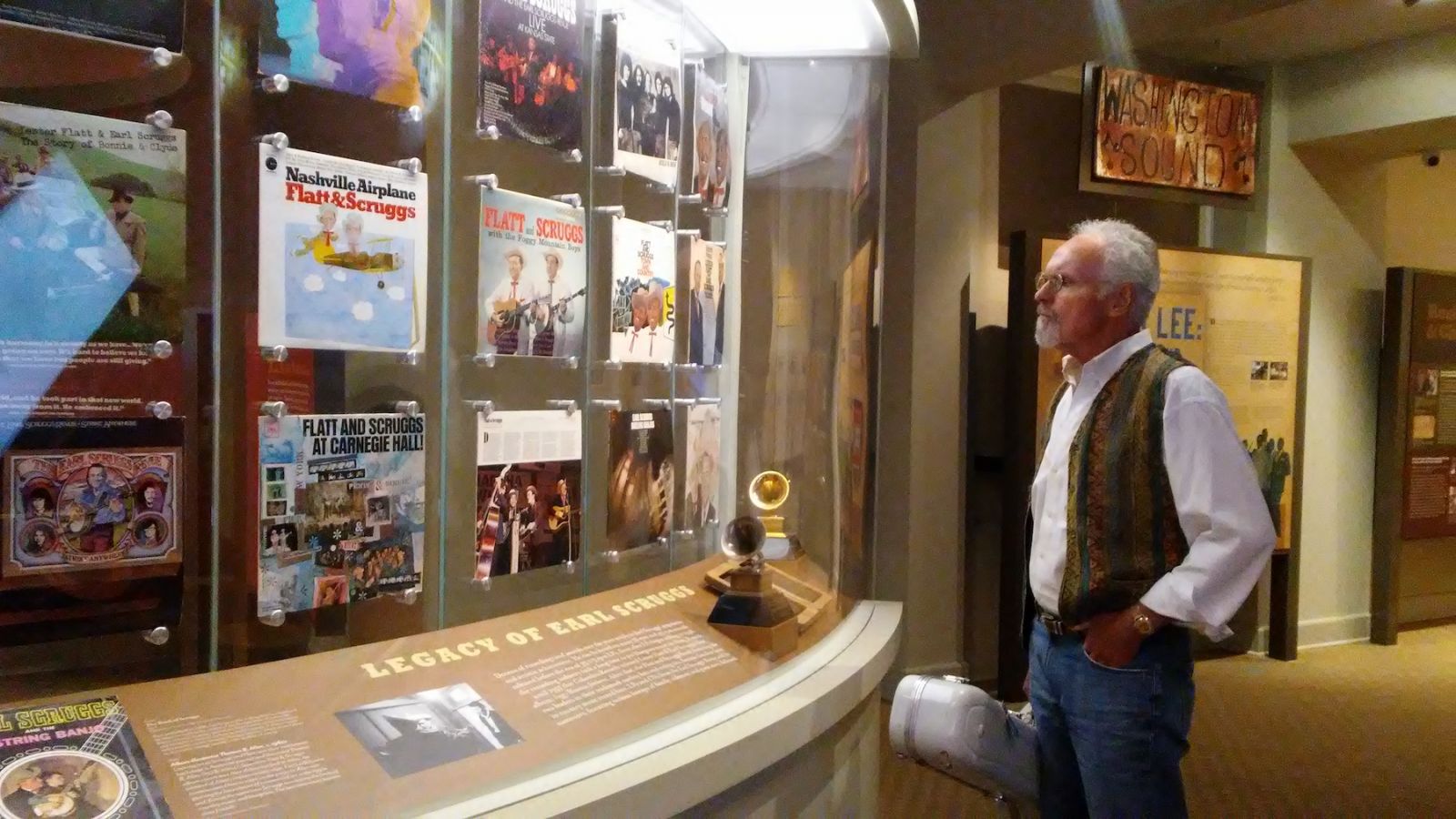 This week's show features an interview from the Earl Scruggs Center with Gordon Castelnero and David Russell, Authors of Earl Scruggs Banjo Icon, as well as some of the contributing banjo players to the book
SHOW 723– HOUR 1-Week of May 8, 2017
Show Open & Theme-Knee-Deep In Bluegrass-Terry Baucom
Song-Last Time I'll Ever Leave This Town-Blue Highway
Songs-Girl From The Highlands-Balsam Range / Little Liza Jane-Adam Steffey
Segment Time: 10:30
Segment 2-
:15 bumper bed

Songs-Down That Road Again-Steep Canyon Rangers/Reaching Out-Kenny & Amanda Smith
Songs-This Feel Good Music-Dailey&Vincent/What Will They Say About You-Dukes of Drive
(Sponsor Support)
Segment Time: 22:03
Segment 3-
:15 bumper

Songs- You Can Share My Blanket-Rickey Wasson & Mo Pitney / Never Again-Asheville BG
Songs- Old Hen-Alan Bibey & Grasstowne / Gone On Before-Larry Cordle
(Sponsor Support) Foothills Country Hams / Adams Bluegrass-Cherokee
Segment Time: 14:34
Segment 4-The Vintage Vault –Flatt & Scruggs & The Foggy Mountain Boys
:15 bumper bed
Song-The Ballad of Jed Clampett
Song-Don't Let Your Deal Go Down
(Sponsor Support) Lowe Vintage Instrument Company
Segment Time: 7:36
Local Station I.D.
Hour 2- Show 723
Segment 5-
:15 bumper bed

Songs-Highway-Gibson Brothers / Heavy Traffic Ahead-Ricky Skaggs & Steve Wariner
Segment Time: 7:33
Segment 6-Authors of Earl Scruggs Banjo Icon (David Russell & Gordon Castelnero)
:15 bumper bed

Song-Randy Lynn Rag – Flatt & Scruggs & The Foggy Mountain Boys
Song-Foggy Mountain Breakdown-Earl Scruggs with Family & Friends
(Sponsor Support) Red White and Bluegrass Festival
Segment Time: 16:25
Segment 7-
:15 bumper bed

Song-I'm A Wanderer-Chris Jones & The Night Drivers
Songs-I'll Still Write Your Name In The Sand-Lawson & Williams/Far Away-Snyder Family
(Sponsor Support) Foothills Sugar Cured Country Hams
Segment Time: 11:56
Segment 8-
:15 bumper bed

Songs- Bonnie Goodbye-Carolina Blue / Goin' Round This World-Ralph Stanley II
Song-I'm Ragged But I'm Right-Rex Wiseman
(Sponsor Support) Lowe Vintage Instrument Company
Segment Time: 10:14
Segment 9-
:15 bumper bed

Song-River Runs Red-SteelDrivers
Closing Theme-Winslow-Terry Baucom
Segment Time: 7:10
Segment 10 – Show PROMO
Additional Cuts for Bluegrass Country: Mississippi Half-Step Uptown Toodeloo-Town Mountain / What Goes Around-Junior Sisk
Why Did You Wander-Earls of Leicester / Roll In My Sweet Baby's Arms-Flatt & Scruggs / Cold Hard Facts-Jeff White
Dooley-The Dillards
Knee-Deep In Bluegrass is a Production of John Boy & Billy, Inc. All Rights Reserved. For questions, tech support, to become an affiliate or get advertising rates, contact Cindy Baucom: [email protected] Call or Text (336) 262-4020
THANK YOU!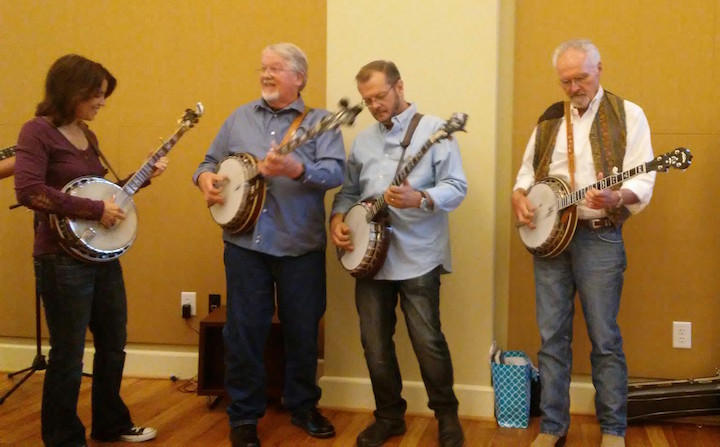 Kristin Scott-Benson, Marc Pruett, Jason Burleson and Terry Baucom at the Earl Scruggs Center