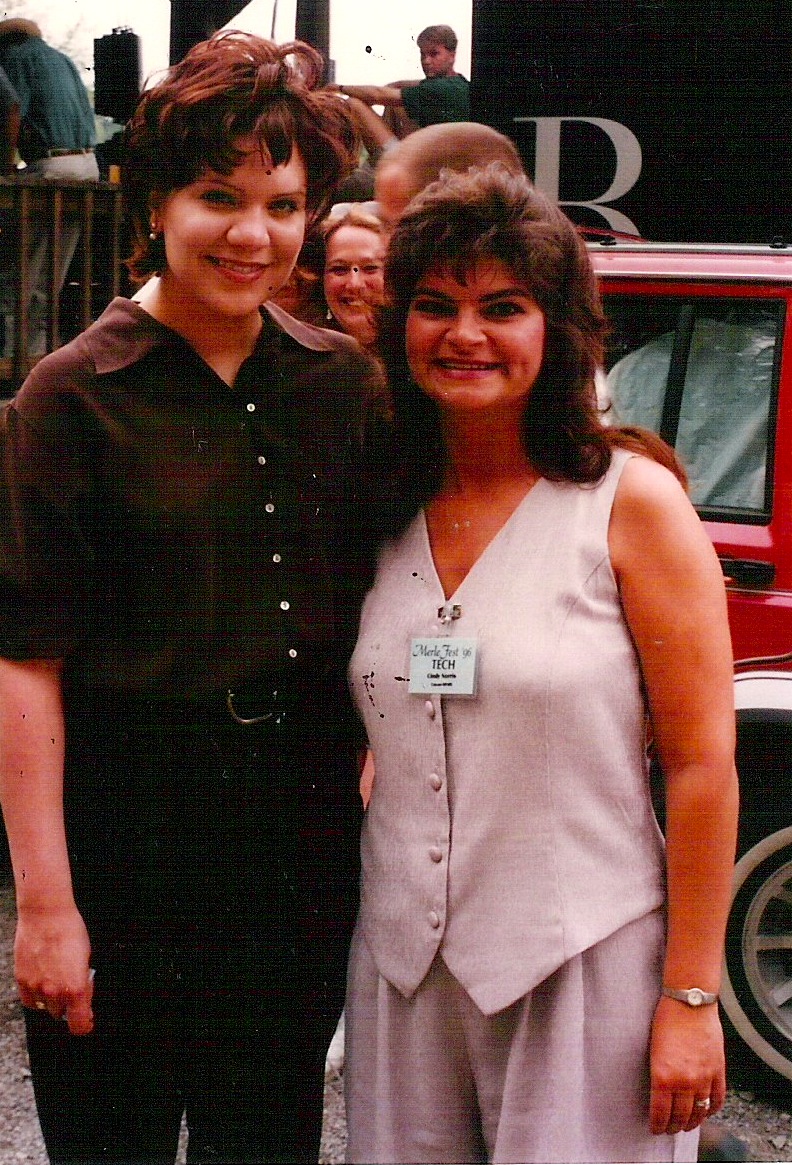 From more than 20 years ago at Merlefest with Alison. Hour Two this week is a Merlefest Feature with Steve Johnson
SHOW 720– HOUR 1-Week of April 17, 2017
Show Open & Theme-Knee-Deep In Bluegrass-Terry Baucom
Songs-They Call The Wind Maria-Bobby Osborne / It's So Cold-Jr Sisk
Song-Monroebilia-Casey Campbell with Mike Compton
Segment Time: 13:28
Segment 2-
:15 bumper bed

Songs-Train On The Island-Laurie Lewis / Amandolina-Herschel Sizemore
Songs- Cold Rain-Breakin' Grass / If It Ain't Love-Mark Newton w/The Whites
(Sponsor Support) Foothills Sugar Cured Country Ham / IBMA / Merlefest
Segment Time: 15:18
Segment 3-
:15 bumper

Songs- Gimme All The Love You Got-Dailey & Vincent/4th& Goal-Terry Baucom
Songs- God's Front Porch-Lou Reid & Carolina / Ragged But I'm Right-Rex Wiseman
(Sponsor Support) Denton Farmpark / Willow Oak Music Park
Segment Time: 14:48
Segment 4-The Vintage Vault –Red Smiley & The Bluegrass Cut-Ups
:15 bumper bed
Song-Let The Church Roll On
Song-A Beautiful Life
(Sponsor Support) Lowe Vintage Instrument Company
Segment Time: 6:22
Local Station I.D.
Hour 2- Show 720
MERLEFEST FEATURE WITH STEVE JOHNSON, Merlefest Artist Relations Director
Segment 5-
:15 bumper bed

Songs-Brown's Dream / Honey Babe Blues / Fisher's Hornpipe-Doc Watson Family
Segment Time: 6:31
Segment 6-
:15 bumper bed

Song- On A Monday-Jerry Douglas
Song-The Train That Carried My Girl From Town-Earls of Leicester
(Sponsor Support) Foothills Sugar Cured Country Ham / IBMA
Segment Time: 14:17
Segment 7-
:15 bumper bed

Song-The More I Learn-Bryan Sutton
Song-Walkin' Man- T. Michael Coleman
(Sponsor Support) Denton Farmpark / Willow Oak Park
Segment Time: 12:07
Segment 8-
:15 bumper bed

Song- Doc Watson Morning-Peter Rowan
Song-Could We Get Any Closer-Jim Lauderdale
(Sponsor Support) Song of the Mountains / Lowe Vintage Instrument Company
Segment Time: 12:21
Segment 9-
:15 bumper bed

Song-Black Eyed Susie-Marty Stuart
Closing Theme-Winslow-Terry Baucom
Segment Time: 6:40
Segment 10 – Show PROMO
Knee-Deep In Bluegrass is a Production of John Boy & Billy, Inc. All Rights Reserved. For questions, tech support, to become an affiliate or get advertising rates, contact Cindy Baucom: [email protected] Call or Text (336) 262-4020
THANK YOU!