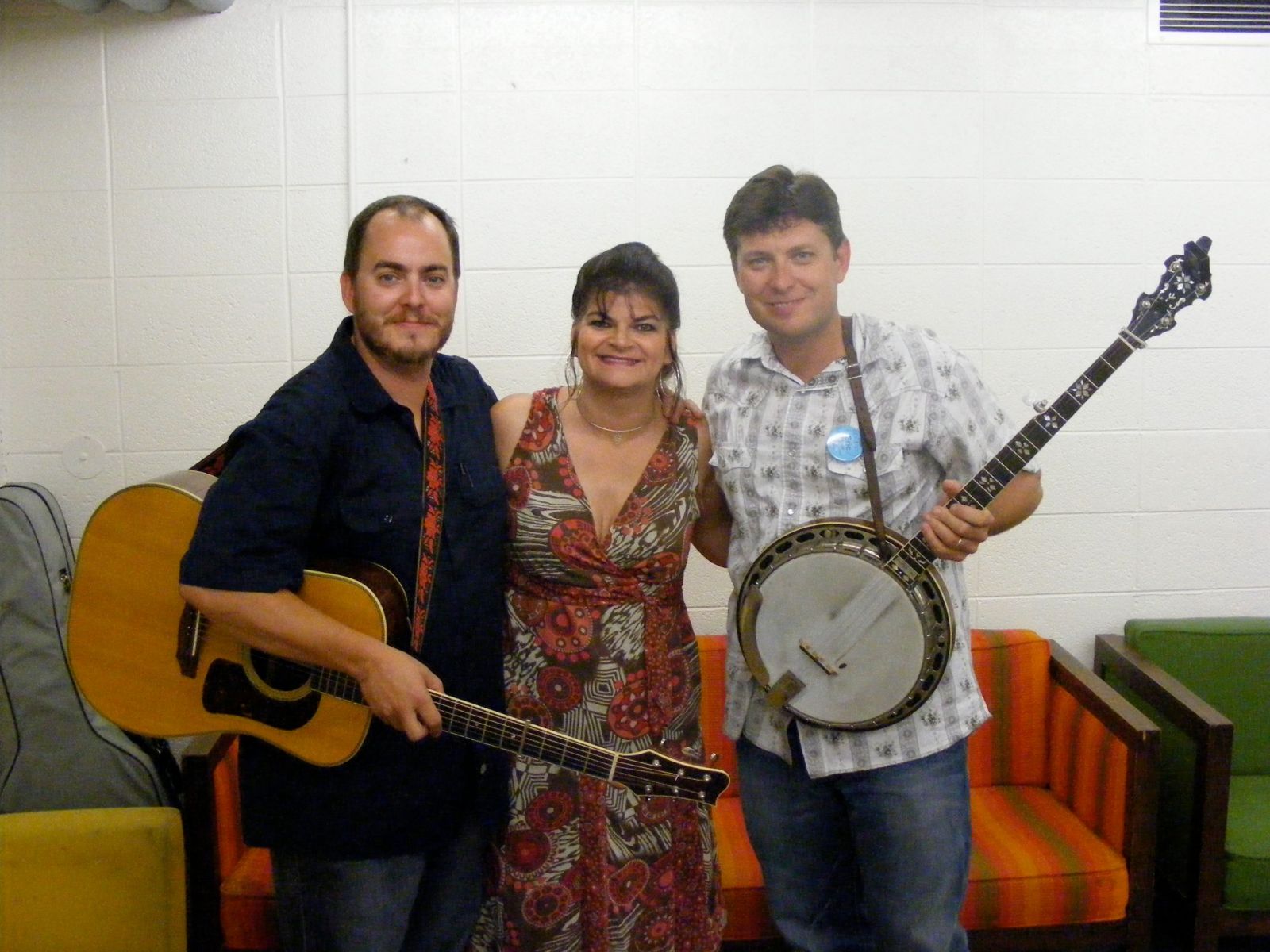 It was many years ago when I first met Leigh and Eric. It is always fun to catch up! "In The Ground" now available on Rounder!
SHOW 719– HOUR 1-Week of April 10, 2017
Show Open & Theme-Knee-Deep In Bluegrass-Terry Baucom
Songs-Dig A Hole In The Meadow-Earls of Leicester / I Miss The Night-Town Mountain
Song-Midnight Train-Larry Stephenson Band
Segment Time: 10:17
Segment 2-
:15 bumper bed

Songs-Gimme All The Love You Got-Dailey & Vincent / Mountains In MS-Darin & Brooke
Songs- Poison Cove-Milan Miller / Silver and Gold-Trinity River Band
(Sponsor Support) Foothills Sugar Cured Country Ham / Merlefest
Segment Time: 16:42
Segment 3-
:15 bumper

Songs- Bluefield-Ralph Stanley II / The Road That Winds-Audie Blaylock & Redline
Songs- American Corner-Becky Buller / Wrong Side of the Door-David Parmley
(Sponsor Support) Denton Farmpark / Willow Oak Music Park
Segment Time: 18:54
Segment 4-The Vintage Vault –Flatt & Scruggs
:15 bumper bed
Song-Take Me In The Lifeboat (1959)
Song-Brother, I'm Getting Ready To Go (1951)
(Sponsor Support) Lowe Vintage Instrument Company
Segment Time: 8:40
Local Station I.D.
Hour 2- Show 719
Segment 5-
:15 bumper bed

Song-Time Is On My Side-Ronnie Bowman
Song-Good Road-Steve Gulley & New Pinnacle
Segment Time: 6:28
Segment 6-The Gibson Brothers
:15 bumper bed

Song-Highway-Gibson Brothers
Song-Remember Who You Are-Gibson Brothers
(Sponsor Support) Merlefest / Denton Farmpark
Segment Time: 13:10
Segment 7-
:15 bumper bed

Songs-Harlan Road-NewTown / Somewhere South of Crazy-Dale Ann Bradley
Song-God Had A Hand In It-Larry Cordle
(Sponsor Support) IBMA / Willow Oak Park
Segment Time: 11:53
Segment 8-
:15 bumper bed

Song- Mary's Rock-Terry Baucom's Dukes of Drive featuring Will Jones
Song-Every Pilgrim Needs A Highway-Kenny & Amanda Smith
Song- Trailblazer-Mickey Galyean & Cullen's Bridge
(Sponsor Support) Lowe Vintage / Merlefest
Segment Time: 10:35
Segment 9-
:15 bumper bed

Song-Eldorado Blue-Balsam Range
Closing Theme-Winslow-Terry Baucom
Segment Time: 6:21
Segment 10 – Show PROMO
Knee-Deep In Bluegrass is a Production of John Boy & Billy, Inc. All Rights Reserved. For questions, tech support, to become an affiliate or get advertising rates, contact Cindy Baucom: [email protected] Call or Text (336) 262-4020
THANK YOU!