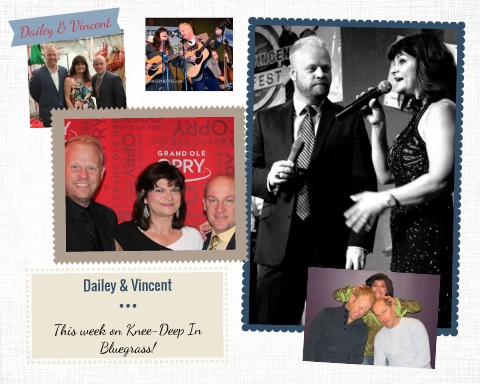 Knee-Deep Spotlight with Jamie DAILEY & Darrin VINCENT
SHOW 713– HOUR 1-Week of February 28, 2017
Show Open & Theme-Knee-Deep In Bluegrass-Terry Baucom
Songs-Why Did You Wander-Ricky Skaggs / I' Rather Be Lonesome-Milan Miller
Song-Carolina Any Day-Terry Baucom's Dukes of Drive
Segment Time: 10:52
Segment 2-
:15 bumper bed

Songs-Two Rivers-FlashBack / Bible and A Bus Ticket-WildFire
Songs- Tennessee Moon-Ray Cardwell / Old Hen-Alan Bibey & Grasstown
Network Commercial: Foothills Sugar Cured Country Ham / RenoFest
Song: Banjo Banjo-Bela Fleck and Abigail Washburn
Segment Time:
(Local Commercials)
Segment 3-
:15 bumper

Songs- Looking Glass-Steep Canyon Rangers / Queen of the County Fair-Josh Williams
Songs- Harlan Road-Newtown / Soul of a Mountain Man-Jeff Brown & Still Lonesome
Network Commercial: Merlefest / IBMA
Song: The More I Learn-Bryan Sutton
Segment Time:
(Local Commercials)
Segment 4-The Vintage Vault –LARRY SPARKS
:15 bumper bed
Song-Come Back Darling-Larry Sparks
Song-Heart Trouble-Larry Sparks
Network Commercial: Lowe Vintage Instrument Company
Segment Time: 8:08
(Local Commercials)
Local Station I.D.
Hour 2- Show 713
Segment 5-
:15 bumper bed

Song-I Want To Be Loved, But Only By You-Lawson & Williams
Song-Let 'Em Know I'm From Virginia-Big Country Bluegrass
Segment Time: 7:26
Segment 6-DAILEY & VINCENT
:15 bumper bed

Song- Big River-Dailey & Vincent
Song- Back To Hancock County-Dailey & Vincent
Network Commercial: Lowe Vintage Instrument Company / IBMA
Segment Time: 12:23
(Local Commercials)
Segment 7-
:15 bumper bed

Songs-Kingdom Come-Darin & Brooke Aldridge / Cowboy Man-Snyder Family Band
Song- Tall Timber-Michael Cleveland
Network Commercial: Foothills Sugar Cured Country Ham
Segment Time: 13:27
(Local Commercials)
Segment 8-
:15 bumper bed

Song- Wherefore and Why-Kenny & Amanda Smith
Song- Bluegrass State of Mind-David Parmley & Cardinal Tradition
Network Commercial: Merlefest
Songs: Wreck of the Edmund Fitzgerald-Tony Rice / Don't Tell Me-Alecia Nugent
Segment Time:
(Local Commercials)
Segment 9-
:15 bumper bed

Song-Everywhere I Go Is A Long Way From Home-Rob Ickes & Trey Hensley
Closing Theme-Winslow-Terry Baucom
Segment Time: 6:49
Segment 10 – Show PROMO
Knee-Deep In Bluegrass is a Production of John Boy & Billy, Inc. All Rights Reserved. For questions, tech support, to become an affiliate or get advertising rates, contact Cindy Baucom: [email protected] Call or Text (336) 262-4020
THANK YOU!