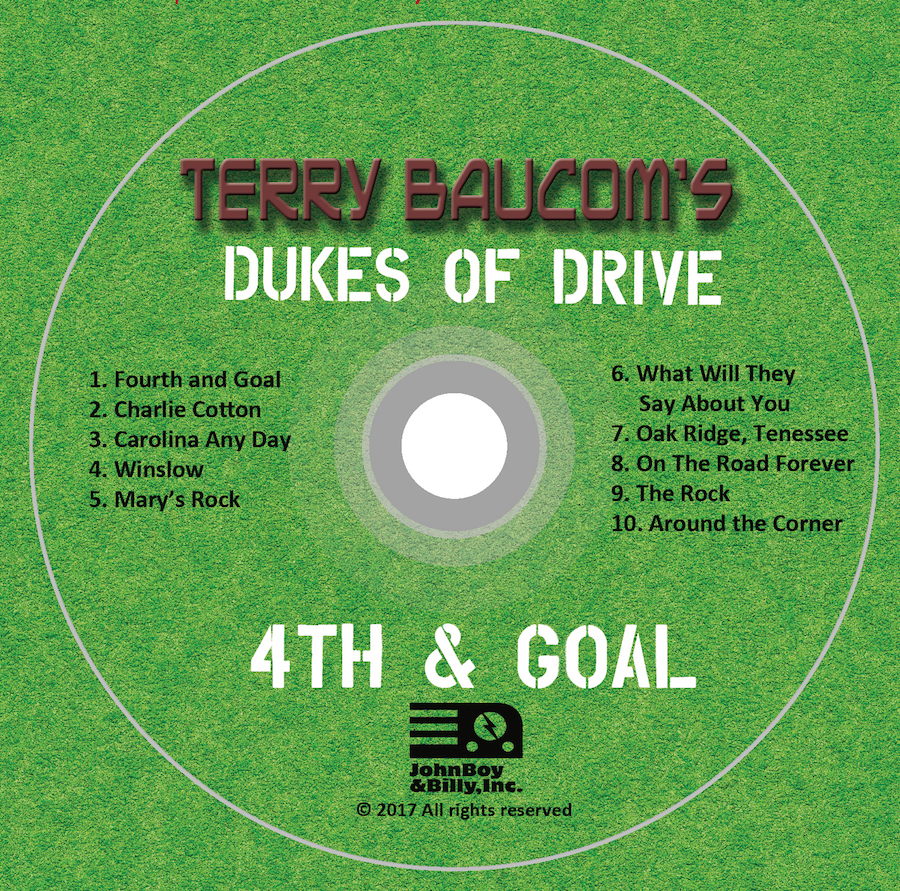 Knee-Deep In Bluegrass
Album Feature: 4th & Goal – *Terry Baucom's Dukes of Drive
SHOW 711– HOUR 1-Week of February 13, 2017
Show Open & Theme-Knee-Deep In Bluegrass-Terry Baucom
Songs-Emily, It's Love-Mountain Faith / Carolina Any Day*
Song-Soul Train-Larry Sparks
Segment Time: 11:43
Segment 2-
:15 bumper bed

Songs-That's All She Wrote-Peter Rowan / Charlie Cotton*
Song- Winslow-Dukes of Drive / Why Did You Wander-Earls of Leicester
Network Commercial: Footshills Sugar Cured Country Ham / IBMA
Segment Time: 13:34
(Local Commercials)
Segment 3-
:15 bumper

Songs- Going Back To Bristol-Shawn Camp & Mac Wiseman / Mary's Rock*
Song-Seminole Wind-Lorraine Jordan & Carolina Road with John Anderson
Network Commercial: Song of the Mountains / Merlefest 2017
Segment Time: 13:12
(Local Commercials)
Segment 4-The Vintage Vault –The Goins Brothers
:15 bumper bed
Song-I Guess I'll Do Without
Song-Overcome By The Blues
Network Commercial: Lowe Vintage Instrument Company / RenoFest 2017
Segment Time: 8:17
(Local Commercials)
Local Station I.D.
Hour 2- Show 711
Segment 5-
:15 bumper bed

Song-I'm A Wanderer-Chris Jones & The Night Drivers
Song-Oak Ridge, Tennessee*
Segment Time: 7:51
Segment 6-
:15 bumper bed

Song- On The Road Forever*
Song- What Will They Say About You*
Network Commercial: RenoFest / Lowe Vintage
Segment Time: 9:10
(Local Commercials)
Segment 7-
:15 bumper bed

Songs-I Think I Hear A Train-Ralph Stanley II / The Rock*
Song- When I Stop Dreaming-Dailey & Vincent
Network Commercial: Adams Bluegrass/IBMA/Foothills Sugar Cured Country Ham
Segment Time: 11:54
(Local Commercials)
Segment 8-
:15 bumper bed

Song- Midnight Train-Larry Stephenson Band
Song-Around The Corner*
Network Commercial: Merlefest 2017 / Song of the Mountains
Segment Time: 8:43
(Local Commercials)
Segment 9-
:15 bumper bed

Song-Fourth and Goal*
Closing Theme-In A Groove-Terry Baucom
Segment Time: 7:34
Segment 10 – Show PROMO
Additional cuts for the BluegrassCountry airing this week:
Don't Weep For Me-Blue Highway / Highway-The Gibson Brothers
Always Do-O'Connor Band / The Road's Salvation-Lonely Heartstring Band
If I Should Wander Back Tonight-Goins Brothers
I Wouldn't Put It Past Me-Dwight Yoakam
The More I Learn-Bryan Sutton / Looking Glass-Steep Canyon Rangers
Girl From The Canyon-Josh Williams / Lullaby-Sierra Hull
The Train That Carried My Girl From Town-Earls of Leicester
Many thanks to folks at BluegrassCountry for including Knee-Deep In Bluegrass in the line-up!

Knee-Deep In Bluegrass is a Production of John Boy & Billy, Inc. All Rights Reserved. For questions, tech support, to become an affiliate or get advertising rates, contact Cindy Baucom: [email protected] Call or Text (336) 262-4020
THANK YOU!