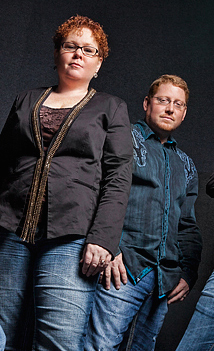 Carolyn and Daniel Routh, the founding members of Nu-Blu, join me in the Knee-Deep Artist Spotlight
SHOW 664– HOUR 1-Week of March 21, 2016
Show Open Theme-Knee-Deep In Bluegrass-Terry Baucom
Song- Carolina Wind-Irene Kelley
Songs-Around The Corner-Terry Baucom's Dukes of Drive / Roll Big River-Doyle Lawson
Segment Time: 11:40
Segment 2-
:15 bumper bed

Songs-Wandering Boy-Earls of Leicester / Happy Go Lucky-Aubrey Haynie
Songs-Come Break My Heart-Town Heart / Three Rusty Nails-Ronnie Bowman
Network Commercials: Foothills Country Hams / Merlefest 2016
Segment Time: 15:17
(Local Commercials)
Segment 3-
:15 bumper

Songs-Slowly I'm Falling-Marty Raybon / Man Looks On The Outside-Kenny & Amanda Smith
Songs-Old Train-Tony Rice / I'll Still Write Your Name In The Sand-David Peterson & 1946
Network Commercials: HoustonFest 2016 / Marana Music Festival
Segment Time: 14:23
(Local Commercials)
Segment 4-Vintage Vault-OSBORNE BROTHERS
:15 bumper bed
LOWE VINTAGE INSTRUMENT COMPANY
Song-I Can Hear Kentucky Calling Me-Osborne Brothers
Song-Fourteen Carat Mind-Osborne Brothers
Network Commercial: Lowe Vintage Instrument Company / Lorraine's Coffee House
Segment Time: 8:41
(Local Commercials)
Local Station I.D.
Hour 2- Show 664
Segment 5-
:15 bumper bed

Song-Queen of the County Fair-Josh Williams
Song-Another Weary Mile-Kristy Cox
Segment Time: 7:04
Segment 6- spotlight NU-BLU (Daniel & Carolyn Routh)
:15 bumper bed

Song-It's Not That Cold In Montana-Nu-Blu
Song-Martha and Mary-Nu-Blu
Network Commercials: Marana Music Festival / HoustonFest 2016
Segment Time: 19:51
(Local Commercials)
Segment 7-
:15 bumper bed

Songs-Brown Hill-The Boxcars / My Lonely Heart-Big Country Bluegrass
Song-Guitar Medley-Pat Flynn
Network Commercial: Foothills Country Hams / Lowe Vintage Instrument Co.
Segment Time: 10:46
(Local Commercials)
Segment 8-
:15 bumper bed

Song-Thunder & Lightning-Lonesome River Band
Songs-When He Calls-Darin & Brooke Aldridge / Cricket On The Hearth-Bryan Sutton
Network Commercial: Merlefest 2016 / Lorraine's Coffee House
Segment Time: 11:14
(Local Commercials)
Segment 9-
:15 bumper bed

Song-Adeline-Buddy Melton and Milan Miller
Closing Theme –In A Groove-Terry Baucom
Segment Time: 5:48
Segment 10- :30 PROMO
Knee-Deep In Bluegrass is a Production of John Boy & Billy, Inc. All Rights Reserved. For questions, tech support, to become an affiliate or get advertising rates, contact Cindy Baucom: [email protected] Call or Text (336) 262-4020. THANK YOU !!!
Happy Easter To All !!!