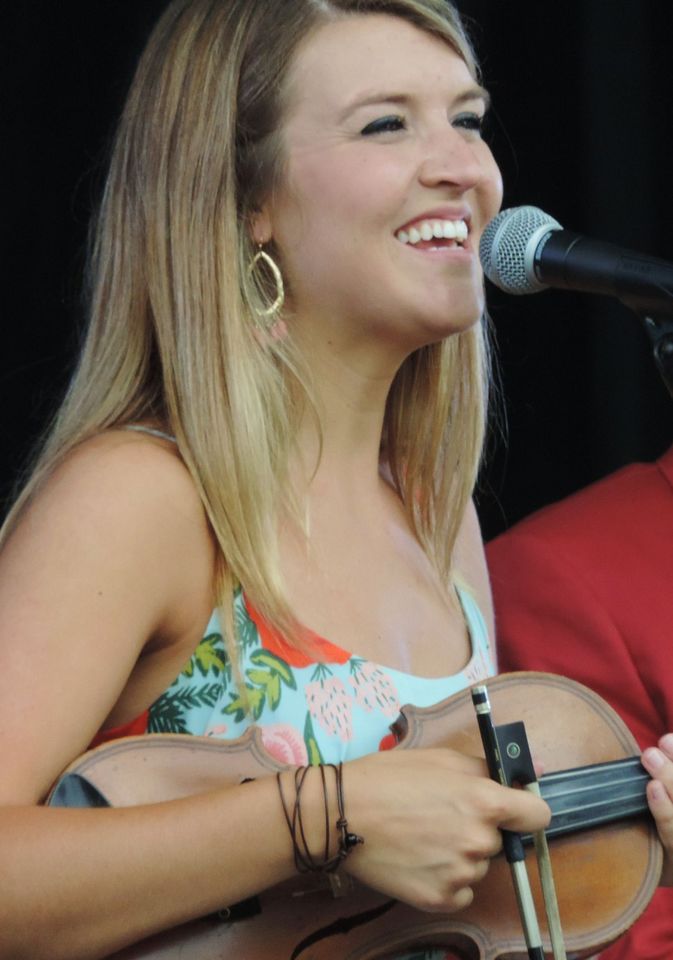 Summer McMahan of the Mountain Faith Band is my special guest on this week's show!
SHOW 639– HOUR 1-Week of September 21, 2015
Show Open Theme-Knee-Deep In Bluegrass-Terry Baucom
Song-Now The Summer's Gone-Joe Mullins & The Radio Ramblers
Songs-Back In The Day-Tim Stafford / Minor Swing-Bryan Sutton
Segment Time: 13:18
Segment 2-
:15 bumper bed

Songs- Time Is On My Side-Ronnie Bowman / Liza Jane-Wayne Henderson
Songs- Country Roads-Osborne Brothers / Goin' Up Dry Branch-Michael Cleveland
Network Commercials: IBMA (Graham Sharp) / Clermont Performing Arts Center
Segment Time: 14:14
(Local Commercials)
Segment 3-
:15 bumper

Songs-Each Season Changes You-Gibson Brothers / Leavin' Me-Larry Sparks
Songs-Ode To The Simple Man-Chapmans / Liberty-Byron Berline & John Hickman
Network Commercials: Dailey & Vincent WaterFest 2016
Segment Time: 13:28
(Local Commercials)
Segment 4-Vintage Vault-J. D. Crowe & The Kentucky Mountain Boys
:15 bumper bed
LOWE VINTAGE INSTRUMENT COMPANY
Songs-Born To Be With You / Please Search Your Heart
Network Commercial: Lowe Vintage Instrument Company
Segment Time: 7:48
(Local Commercials)
Local Station I.D.
Hour 2- Show 639
Segment 5-
:15 bumper bed

Song-Come Back To Me In My Dreams-Balsam Range w/Joe Diffie
Song- Nothin' Like The Scorn of a Lover-Terry Baucom w/Russell Moore & Buddy Melton
Segment Time: 6:01
Segment 6- Spotlight: Summer McMahan (Mountain Faith Band)
:15 bumper bed

Song-Emily (It's Love) – Mountain Faith
Network Commercials: IBMA (Rob Ickes) / DV WaterFest 2016
Segment Time: 13:11
(Local Commercials)
Segment 7-
:15 bumper bed

Songs-Close By-Dailey & Vincent / Some Day-Blue Highway
Song- Blues Rollin' In-Del McCoury Band
Network Commercial: Clermont Performing Arts
Segment Time: 9:40
(Local Commercials)
Segment 8-
:15 bumper bed

Song-Back To Dixie-McPeak Brothers
Songs- Bluefield-Ralph Stanley II / I Don't Know-Cherryholmes
Network Commercial: IBMA (Larry Cordle)
Segment Time: 11:26
(Local Commercials)
Segment 9-
:15 bumper bed

Song-Durango-Darren Nicholson
Closing Theme –In A Groove-Terry Baucom
Segment Time: 6:45
Segment 10- :30 PROMO
Knee-Deep In Bluegrass is a Production of John Boy & Billy, Inc. All Rights Reserved. For questions, tech support or to become an affiliate: [email protected] (336) 262-4020. 
For sponsorship information, contact Jay Wilson [email protected]s.com (704) 714-9545.
THANK YOU!!!