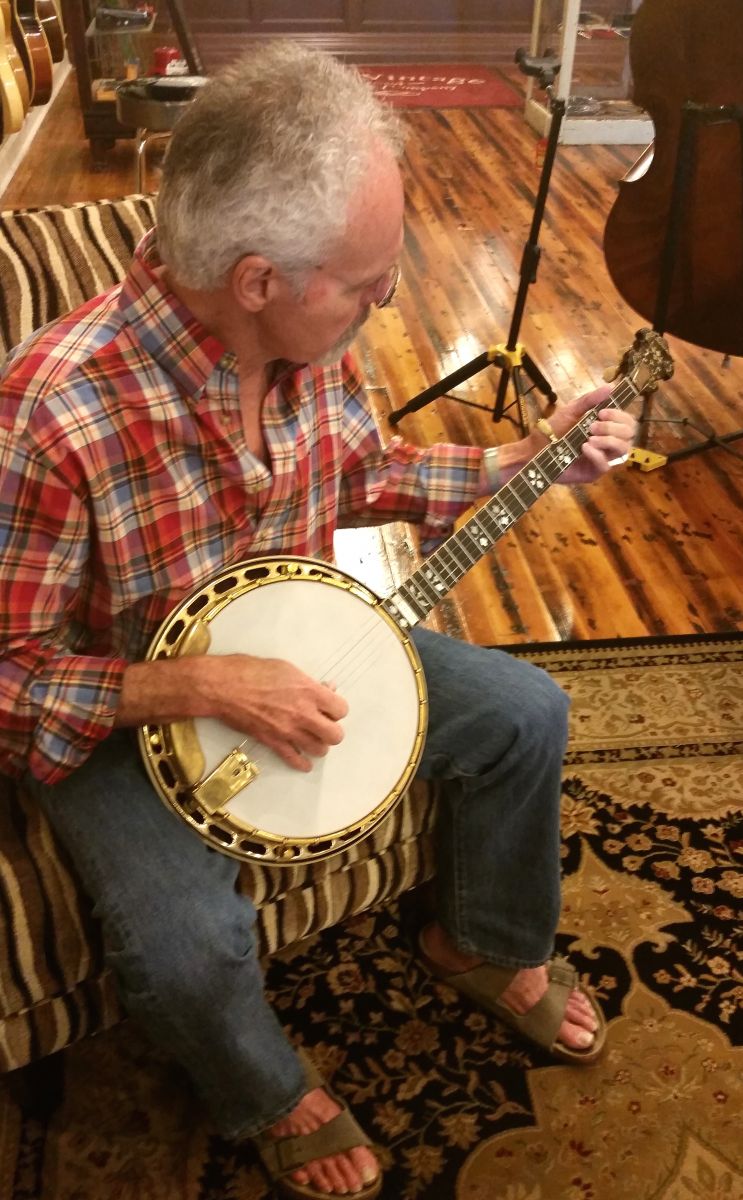 SHOW 630– HOUR 1-Week of July 20, 2015
Show Open Theme-Knee-Deep In Bluegrass-Terry Baucom
Song-I'll Go Steppin' Too-Earls of Leicester
Songs-That 'Ol Train-Michael Cleveland & Flamekeeper / I'm Ready Now-Flatt Lonesome
Segment Time: 11:49
Segment 2-
:15 bumper bed

Songs- Sweet Little Miss Blue Eyes-Gibson Brothers / Open Roads-Adkins & Loudermilk
Songs- A Whole Lot of Nothing-Lonesome River Band / Last Left To Go-Jeff Scroggins & Colorado
Network Commercials: IBMA (Graham Sharp) / Ola Belle Fest / DV WaterFest
Segment Time: 14:10
(Local Commercials)
Segment 3-
:15 bumper

Song-What A Waste …-Travelin' McCourys & Keller Williams
Songs-You're Dead To Me-Dierks Bentley w/ Tim O'Brien / Song For The Old North State-Ryan Cavanaugh
Network Commercials: IBMA (Cordle) / American Roots Festival
Segment Time: 11:16
(Local Commercials)
Segment 4-Vintage Vault-Jim & Jesse & The Virginia Boys
:15 bumper bed
LOWE VINTAGE INSTRUMENT COMPANY
Songs-Paradise / Are You Missing Me-Jim & Jesse & The Virginia Boys
Network Commercial: Lowe Vintage Instrument Company / Ola Belle Fest
Segment Time: 9:41
(Local Commercials)
Local Station I.D.
Hour 2- Show 630
Segment 5-
:15 bumper bed

Song-What Am I Doing Hangin' 'Round-Seldom Scene
Song- My Angeline-Russell Moore & IIIrd Tyme Out
Segment Time: 7:35
Segment 6- Knee-Deep Artist Spotlight: Terry Baucom
:15 bumper bed

Song-The Rock-Terry Baucom w/Joey Lemons, Shawn Lane, Caleb Smith, Steve Bryant
Song- Don't Cross The River-Doyle Lawson & Quicksilver (original band)
Network Commercials: Lowe Vintage Instrument Company / Dailey Vincent WaterFest
Segment Time: 15:35
(Local Commercials)
Segment 7-
:15 bumper bed

Songs-Chasing Someone Else's Dreams-Balsam Range / Rocky Road Blues-Marty Raybon
Songs- Don't Leave Her Lonely-Grass Cats / Liza Jane-Johnny Warren & Charlie Cushman
Network Commercial: Ola Belle Fest / IBMA (Jacob Burleson)
Segment Time: 14:07
(Local Commercials)
Segment 8-
:15 bumper bed

Song-Lessons Learned-Ronnie Reno
Songs- Tonight I'm Gonna Ride-Chris Jones & The Night Drivers / Ebenezer-Wayne Henderson
Network Commercials: American Roots Bluegrass Festival
Segment Time: 10:26
(Local Commercials)
Segment 9-
:15 bumper bed

Song-Mississippi River-Dailey & Vincent (live)
Closing Theme –In A Groove-Terry Baucom
Segment Time: 6:18
Segment 10- :30 PROMO
Knee-Deep In Bluegrass is a Production of John Boy & Billy, Inc. All Rights Reserved. For questions, tech support or to become an affiliate: [email protected] (336) 262-4020. 
For sponsorship information, contact Jay Wilson [email protected] (704) 714-9545.
THANK YOU!!!