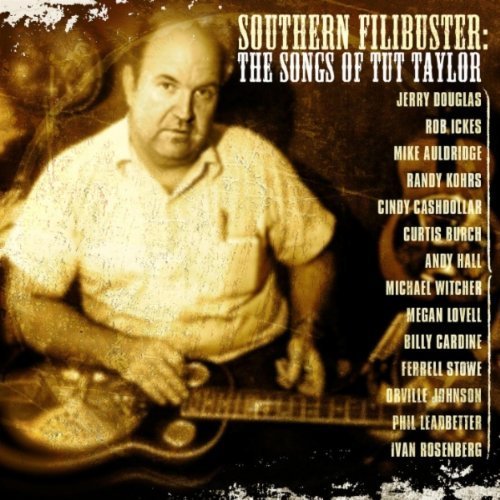 I had a ball visiting with my friend, Tut Taylor, in his home in Wilkesboro, NC. Tut is featured during the Vintage Vault segment with conversation and cuts from the Aereoplane Band (John Hartford, Norman Blake, Vassar Clements and Tut Taylor). The conversation continues into hour two of the show for 'Music Moments and Memories', brought to you by Merlefest. Tut speaks of his long involvement with the festival and we enjoy selections from "Southern Filibuster" that was produced by Jerry Douglas, featuring all original Tut Taylor songs. Thanks to Tut Taylor for spending time with me. It was a real pleasure.
SHOW 557 – HOUR 1-Week of February 24, 2014
Segment 1-
Show Opening Theme-Knee-Deep In Bluegrass-Terry Baucom
Songs-Misty-Del McCoury Band / Remind Me of You-Blue Highway
Song-The Mountains My Baby and Me-The Grass Cats
Segment Time: 12:10

Segment 2-
:15 bumper bed
Songs-Back To Jackson County-Dailey & Vincent / I Hate To See My Darlin Go-Jeff Parker
Songs-One More Rocky Road-Jason Davis / Carry Me Back To Carolina-Terry Baucom w/Buddy Melton
Network Commercials: RenoFest 2014
Segment Time: 12:58
Local Commercials
Segment 3-
:15 bumper
Songs-Road Into Town-Danny Paisley & The Southern Grass / I'm Not Gonna Sing The Blues-Kristy Cox
Songs-Poor Boy's Delight-Infamous Stringdusters / Song Me A Song About Jesus-Doyle Lawson & Quicksilver
Network Commercials: Five String Fest
Segment Time: 14:43
Local Commercials
Segment 4-Vintage Vault-TUT TAYLOR w/the AereoPlane Band (1971)
:15 bumper bed
Songs-John Henry / Ruff and Ready-John Hartford, Norman Blake, Vassar Clements, Tut Taylor
Network Commercials: I B M A
Segment Time: 7:28
Local Commercials
Local Station I.D.
Show 557-Hour 2-Week of February 24, 2014
Segment 5-
:15 bumper bed
Song-Up The Ladder-Town Mountain
Song-On That Road Leadin' Home-Spinney Brothers
Segment Time: 6:37
Segment 6- Music Moments & Memories, presented by MERLEFEST (Tut Taylor)
:15 bumper bed
Song-Southern Filibuster-Jerry Douglas
Song-Oasis-Rob Ickes
Network Commercials: Merlefest 2014
Segment Time: 11:51
Local Commercials
Segment 7-
:15 bumper bed
Songs-You're Dead To Me-Dierks Bentley w/Tim O'Brien/Smith's Rag-Aubrey Haynie
Songs-Get In Line Brother-Buddy Melton / The Crime I Didn't Do-Lonesome River Band
Network Commercial: RenoFest 2014
Segment Time: 14:06
Local Commercials
Segment 8-Concert Cuts-New Grass Revival, Live in France
:15 bumper bed
Song-White Freightliner Blues-New Grass Revival
Network Commercial: Five String Fest
Segment Time: 4:43
Local Commercials
Segment 9-
:15 bumper bed
Song-Another Town-Keith Whitley
Closing Theme-In A Groove-Terry Baucom
Segment Time: 5:35
Segment 10- :30 PROMO
Knee-Deep In Bluegrass is a Production of John Boy & Billy, Inc. All Rights Reserved.
For questions, tech support or to become an affiliate: [email protected] (336) 262-4020
For sponsorship information, contact Jay Wilson [email protected] (704) 619-3930 / (704) 714-9545
Please consider becoming a member of the International Bluegrass Music Association (IBMA) Visit www.ibma.org