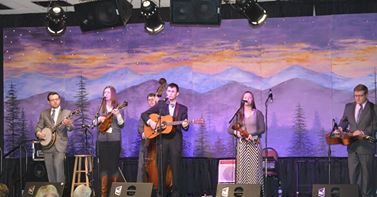 It was a great time in Asheville, NC, last weekend for Bluegrass First Class. Flatt Lonesome (pictured above) entertained the capacity crowd with two great sets of Bluegrass on Saturday. Seldom Scene, Dailey & Vincent and more, made it a very fun time of wonderful music. The highlight for many was seeing about a half dozen former members of Doyle Lawson's band, Quicksilver, join him onstage and present some of their signature songs. Original members, Terry Baucom and Lou Reid, along with Jamie Dailey, Barry Scott, Dale Perry and Ray Deaton, made it a night not soon to be forgotten. A big THANK YOU to all involved.
Now on to this week's show. I also bring back some of that Quicksilver magic with this week's Vintage Vault portion. Then Lou Reid & Carolina entertain in the Concert Cuts. There is a mix of new and older Bluegrass, as well as, traditional to contemporary. I appreciate all who listen each week…or when you can!
SHOW 556 – HOUR 1-Week of February 17, 2014

Segment 1-
Show Opening Theme-Knee-Deep In Bluegrass-Terry Baucom
Songs-The Game-Blue Highway / When I Get My Pay-Grascals
Song-Double or Nothing-The Rigneys
Segment Time: 11:22

Segment 2-
:15 bumper bed
Song-How Mountain Girls Can Love-Ricky Skaggs & Bruce Hornsby
Songs-Town of Shady Grove-Edgar Loudermilk/Outbound Plane-Darin & Brooke
Song-Justice Called and Mercy Answered-The Primitive Quartet
Network Commercials: RenoFest 2014
Segment Time: 13:07
Local Commercials
Segment 3-
:15 bumper
Songs-Tell The Ones I Love-Steep Canyon Rangers/Streets of Abilene-Aaron Ramsey
Songs-Everytime It Snows-Wayne Taylor/Brand New Tennessee Waltz-Don Rigsby
Network Commercials: RenoFest 2014
Segment Time: 15:08
Local Commercials
Segment 4-Vintage Vault-Doyle Lawson & Quicksilver (the original band)
:15 bumper bed
Songs-How Long Have I Been Waiting For You / Yellow River
Network Commercials: I B M A
Segment Time: 8:11
Local Commercials
Local Station I.D.
Show 556-Hour 2-Week of February 17, 2014
Segment 5-
:15 bumper bed
Song-If The Bottle Was A Bible-Junior Sisk & Ramblers Choice
Song-Take This Hammer-Donna Ulisse w/Sam Bush
Segment Time: 8:39
Segment 6- Merlefest: Music, Moments and Memories…with John Cowan
:15 bumper bed
Song-You Don't Knock-New Grass Revival
Song-No One But My Darlin'-Terry Baucom featuring John Cowan
Network Commercials: Merlefest 2014
Segment Time: 7:39
Local Commercials
Segment 7-
:15 bumper bed
Songs-Brothers of the Highway-Dailey & Vincent/Fisher's Hornpipe-M Johnson & E Lester
Songs-It's Getting' Better All The Time-Ronnie Bowman/Big Blue Raindrops-Del McCoury
Network Commercial: RenoFest 2014
Segment Time: 15:42
Local Commercials
Segment 8-Concert Cuts-Lou Reid & Carolina (20th Anniversary from the Down Home)
:15 bumper bed
Songs-Amanda Lynn / Heart of a Little Mountain Girl-Lou Reid & Carolina
Network Commercial: I B M A
Segment Time: 7:54
Local Commercials
Segment 9-
:15 bumper bed
Song-Home On The River-Gibson Brothers
Closing Theme-In A Groove-Terry Baucom
Segment Time: 5:39
Segment 10- :30 PROMO
Knee-Deep In Bluegrass is a Production of John Boy & Billy, Inc. All Rights Reserved.
For questions, tech support or to become an affiliate: [email protected] (336) 262-4020
For sponsorship information, contact Jay Wilson [email protected] (704) 619-3930
Please support our sponsors:
RENOFEST, Hartsville, SC, the 4th weekend of March and
MERLEFEST, Wilkesboro, NC, April 24-27, 2014.
THANKS!