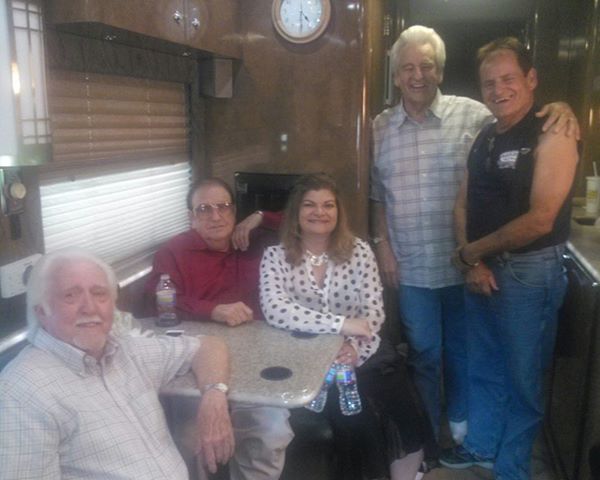 During the 10th Annual Red White and Bluegrass Festival in Morganton, NC, I got to visit with some of my favorite musicians and people: J.D. Crowe, Bobby Osborne, Del McCoury and Jerry McCoury. Even with heavy rains at times, the Red White and Bluegrass Festival was a wonderful events full of fun and great music!!!
Below is the latest playlist for "Knee-Deep In Bluegrass". Many thanks for listening each week.
SHOW 523 – HOUR 1-Week of July 1, 2013
Segment 1-
Show Opening Theme: Knee Deep In Bluegrass by Terry Baucom
Songs-Slowly (I'm Falling)-Marty Raybon / Gentle On My Mind-IIIrd Tyme Out
Song-Eatin' Out of Your Hand-Mitch Harrell
Segment Time: 12:13

Segment 2-
:15 bumper bed
Songs-So Long, So Wrong-Alison Krauss & Union Station / Blue Bird Days-Blue Highway
Songs-Meanwhile-Harley Allen / Home Is Where The Heart Is-Audie Blaylock & Redline
Network Commercials: Banjo.com / IBMA
Segment Time: 16:37
Local Commercials
Segment 3-
:15 bumper
Songs-Empire-Della Mae / What'll I Do-Terry Baucom w/Sam Bush
Songs-Would You Go With Me-Shawn Camp / Stone Cold West Virginia-Dave Evans
Network Commercials: OlaBelleFest / The Mast Farm Inn
Segment Time: 17:20
Local Commercials
Segment 4-Vintage Vault-RED ALLEN & FRANK WAKEFIELD
:15 bumper bed
Song-Lonesome Weary Heart
Song-Little Birdie
Network Commercials: Reevestock / OBX '13
Segment Time: 7:49
Local Commercials
Local Station I.D.
Show 523-Hour 2-Week of July 1, 2013
Segment 5-
:15 bumper bed
Song-Iodine-Jim Lauderdale
Song-John Henry Blues-Aaron Ramsey
Segment Time: 7:31

Segment 6-
:15 bumper bed
Songs-That's Just The Way I Roll-Dave Adkins / John Hardy – Williamson Brothers
Songs-Up The Ladder-Town Mountain / Nolabye-Jerry Douglas
Network Commercials: Banjo.com / IBMA
Segment Time: 15:02
Local Commercials
Segment 7-
:15 bumper bed
Songs-Coal Miner's Blues-Boxcars / A Beautiful Life-Doyle Lawson & Quicksilver
Songs-When You Don't Come Home-SteelDrivers / Somebody's Waiting-Big Country BG
Network Commercial: The Mast Farm Inn
Segment Time: 12:40
Local Commercials
Segment 8-Concert Cuts-Darin & Brooke Aldridge-Live at Red White and Bluegrass
:15 bumper bed
Song-To Know Him Is To Love Him / No One Needs To Know
Network Commercial: IBMA (Gibson Brothers)
Segment Time: 6:55
Local Commercials
Segment 9-
:15 bumper bed
Song-High On The Mountain-Del McCoury
Closing Theme: In A Groove
Segment Time: 6:17
Segment 10- :30 PROMO
Knee-Deep In Bluegrass is a Production of John Boy & Billy, Inc. All Rights Reserved.
For questions or tech support: [email protected] (336) 262-4020