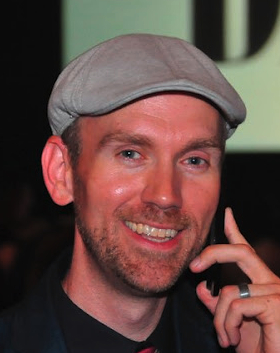 Merlefest Manager of Artist Relations, Steve Johnson (T Lehmann photo)
Join my special co-host, Steve Johnson, and me for the Merlefest Edition of Knee-Deep In Bluegrass this week! Steve and I will chat about many of the unique elements that make Merlefest so special. The music you'll hear comes from artists you can see at Merlefest, April 25-28, 2013, on the Wilkes Community College Campus, Wilkesboro, North Carolina.
SHOW 510 – HOUR 1-Week of April 1, 2013
MERLEFEST EDITION
Segment 1-
Show Opening Theme: Knee Deep In Bluegrass-Terry Baucom
Songs-As I Go-Steep Canyon Rangers / Ballad of Stringbean & Estelle-Sam Bush
Song-Forked Deer-Bryan Sutton
Segment Time: 13:36

Segment 2-
:15 bumper bed
Songs-Tonight My Baby's Coming Home-Rhonda Vincent / Sweet Appalachia-Del McCoury
Song-Snowbird-Kruger Brothers
Network Commercial: The Mast Farm Inn / Merlefest
Segment Time: 14:14
Local Commercials
Segment 3-
:15 bumper
Songs-Panama Red-Peter Rowan / Triple Crossroad Blues-Jim Lauderdale
Song-Just Get Up and Go-Mountain Heart
Network Commercial: Banjo.com
Segment Time: 13:30
Local Commercials
Segment 4-Vintage Vault-Doc & Merle Watson
:15 bumper bed
Song-John Henry
Song-Girl In The Blue Velvet Band
Network Commercial: Merlefest
Segment Time: 10:31
Local Commercials
Local Station I.D.
Knee-Deep In Bluegrass is a Production of John Boy & Billy, Inc. All Rights Reserved.
[email protected] / (336) 262-4020
MERLEFEST EDITION
Show 510-Hour 2-Week of April 1, 2013
Segment 5-
:15 bumper bed
Song-My Window Faces The South-Russell Moore & IIIrd Tyme Out
Song-What'll I Do-Terry Baucom w/Sam Bush, Jerry Douglas, Rice, Bryant & Melton
Segment Time: 7:55

Segment 6-
:15 bumper bed
Songs-My Time In The Desert-John Cowan / Who's Your Uncle-Jerry Douglas
Song-Carolina In The Pines-Michael Martin Murphy
Network Commercial: Banjo.com / Merlefest
Segment Time: 14:42
Local Commercials
Segment 7-
:15 bumper bed
Songs-Circles Around Me-Sam Bush / I Won't Let It Show-Jim Lauderdale
Network Commercial: The Mast Farm Inn
Segment Time: 9:12
Local Commercials
Segment 8-Concert Cuts: Nitty Gritty Dirt Band
:15 bumper bed
Song-An American Dream-Nitty Gritty Dirt Band
Network Commercial: Merlefest
Segment Time: 6:17
Local Commercials
Segment 9-
:15 bumper bed
Song-Shady Grove-Doc Watson
Closing Theme: In A Groove by Terry Baucom
Segment Time: 6:43
Segment 10- :30 PROMO
Knee-Deep In Bluegrass is a Production of John Boy & Billy, Inc. All Rights Reserved.
Visit www.merlefest.org for festival details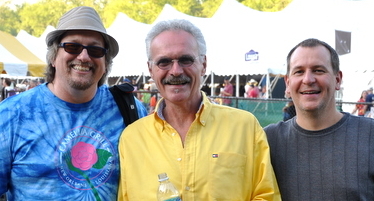 Jerry Douglas, Terry Baucom and Scott Vestal (T Lehmann photo)