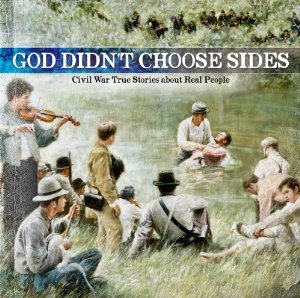 "God Didn't Choose Sides" on Rural Rhythm Records is the CD Spotlight during hour two of the show. I hope you will check out this great recording by some of Bluegrass Music's most celebrated artists; true stories about real people during the Civil War. I congratulate all involved with this effort. I also have new Hammertowne, as well as Sutton, Holt and Coleman.
SHOW 505 – HOUR 1-Week of February 25, 2013
Segment 1-
Show Opening Theme: Knee Deep In Bluegrass by Terry Baucom
Songs-That Janie Baker-Marty Raybon / Cherokee Maiden-Hammertowne
Song-Hotel Wall-Sutton, Holt & Coleman
Segment Time: 12:11

Segment 2-
:15 bumper bed
Songs-Ain't Gonna Lay My Hammer Down/Bleeding For A Little PeaceofMind-Blue Highway
Songs-Go Away Stop…-Steve Martin&SCR/I'd Rather Hear I Don't Love You-Rhonda Vincent
Network Commercial: Merlefest / Banjo.com
Segment Time: 17:16
Local Commercials
Segment 3-
:15 bumper
Songs-Witchita Lineman-Hot Rize / This Old Guitar and Me-Grasstowne w/Ronnie Bowman
Songs-Whitewater-Bela Fleck / Arkansas-Harley Allen & Mike Lilly Band
Network Commercial: RenoFest
Segment Time: 15:03
Local Commercials
Segment 4-Vintage Vault-OSBORNE BROTHERS
:15 bumper bed
Song-Back To The Country Roads-Osborne Brothers (1973)
Song-Checkin' Her Over-Osborne Brothers (1974)
Network Commercial: Willow Oak Park
Segment Time: 7:03
Local Commercials
Local Station I.D.
Knee-Deep In Bluegrass is a Production of John Boy & Billy, Inc. All Rights Reserved.
[email protected] / (336) 262-4020
Show 505-Hour 2-Week of February 25, 2013
Segment 5-
:15 bumper bed
Song-Any Old Road (Will Take You There)-Balsam Range
Songs-Sing A Bluegrass Song-Carolina Road / Pretty PollyAnn-Warren & Cushman
Segment Time: 9:34

Segment 6-CD Spotlight-"God Didn't Choose Sides" Rural Rhythm Records-Various
:15 bumper bed
Songs-A Picture of Three Children-Russell Moore/The Lady In Gray-Ronnie Bowman
Song-Old John Burns-Ricky Wasson & Dwight McCall
Network Commercial: RenoFest
Segment Time: 11:30
Local Commercials
Segment 7-
:15 bumper bed
Song-The Legend of Jennie Wade-Lonesome River Band
Songs-Last Day at Vicksburg-Bradley Walker/God Didn't Choose Sides-Marty Raybon
Network Commercial: Willow Oak Park
Segment Time: 11:43
Local Commercials
Segment 8-Concert Cuts-MERLEFEST, Wilkesboro, NC (2003)
:15 bumper bed
Song-Roll In My Sweet Baby's Arms-Doc Watson
Song-San Antonio Rose-The Whites
Network Commercial: Merlefest
Segment Time: 8:55
Local Commercials
Segment 9-
:15 bumper bed
Song-How Come You Do Me Like You Do-Jeff Parker
Closing Theme: In A Groove by Terry Baucom
Segment Time: 5:17
Segment 10- :30 PROMO
Knee-Deep In Bluegrass is a Production of John Boy & Billy, Inc. All Rights Reserved.
THANKS FOR YOUR SUPPORT OF BLUEGRASS MUSIC!
IBMA World of Bluegrass in Raleigh, NC for 2013-2015. Visit www.ibma.org